Exeter: Cannabis Plants Worth £250,000 Seized
27 January 2014, 19:31 | Updated: 27 January 2014, 19:35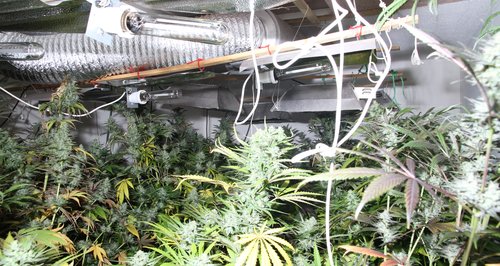 Around 200 suspected mature Cannabis plants with an estimated street value of £250,000, have been seized by police, following a warrant at a warehouse in Marsh Barton, Exeter.
Officers were alerted to the premises at 8.15pm on Saturday 25 January after a police dog handler was walking in the area as part of a training exercise and noticed an overwhelming smell of what she believed to be cannabis.
The dog led the officers to a non-descript warehouse on the estate, where neighbourhood officers were called to assist.
A Misuse of Drugs Act warrant was obtained direct from a magistrate, allowing the police to force entry into the premises the same evening.
A scene guard was put in place until Sunday morning when the Exeter CID team took over the investigation.
A man in his mid 30s, with links to the location, was arrested on Sunday on suspicion of cultivating cannabis, and has been released on police bail until 30 May 2014.
The man's address in the St Thomas area of Exeter was searched, where over £1,000 in cash, an offensive weapon and electronic media were seized.
Enquiries are continuing and police await the results of forensic tests of the drugs seized. Anyone with information relating to this incident, or any linked drug activity, is asked to call police on 101 quoting DE/14/872, or alternatively call Crimestoppers anonymously on 0800 555 111.