Exeter: Largest Roman Coin Hoard Found
26 September 2014, 09:14 | Updated: 26 September 2014, 09:17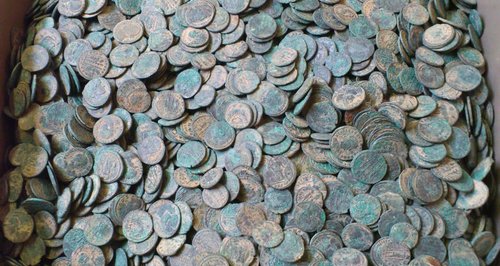 A hoard of 22,000 Roman coins has been unearthed on land near Seaton in East Devon.
The copper-alloy Roman coins is one of the largest and best preserved 4th Century collections to have ever been found in Britain.
The hoard was declared Treasure at a Devon Coroner's Inquest on 12th September 2014 which means it will be eligible for acquisition by a museum.
The discovery was made in November 2013 by East Devon builder and metal detector enthusiast Laurence Egerton who was operating under licence on private land near the previously excavated site of a Roman villa at Honeyditches in East Devon.
Over the past 10 months the coins have been lightly cleaned and the process of identification and cataloguing has begun by experts at the British Museum, revealing an important part of Britain's history.
Buried together in an isolated pit, the lozenge shape of the hoard suggests the coins were in a fabric or leather bag which has not survived.
Experts believe the coins could have been the savings of a private individual, a soldier's wages or a commercial payment.
Despite the number of coins found, the financial value, however, would not have been great, amounting to four gold coins (solidi) which would have provided the ration of two soldiers for one year or a worker's pay for two years.