Get A Free Giant Cookie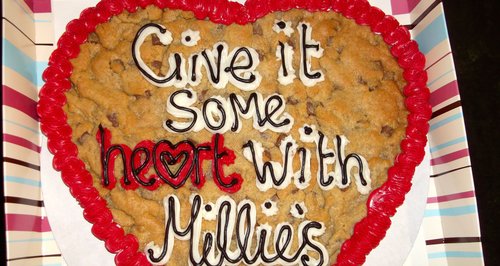 Fancy getting a delicious Friday treat from the Heart Angels and Millie's Cookies?
Of course you do!
The Heart Angels are out visiting Gloucestershire's workplaces, and you could be one of them.

Cheer your whole office up at the end of a long week, with a giant cookie delivered by our fabulous Heart Angels!
Read more about Mille's Cookies here.
Want to get your free giant cookie?
Fill out the form below and the Heart Angels could be bringing you a special delivery, thanks to Millie's Cookies in Cheltenham.
We will try to attend as many workplaces as possible. However there is a limited supply of cookies and workplaces will be selected at Heart's discretion.
Cookies courtesy of:
Millie's Cookies in Cheltenham
Unit K9/K10 Regent Arcade,
Cheltenham,
GL50 1JZ
8:30-5:30 Mon-Fri
10-5 Sunday
Phone: 01242 237953