Gloucester: Work Progressing On Improving Roundabouts
26 June 2014, 09:16 | Updated: 26 June 2014, 09:20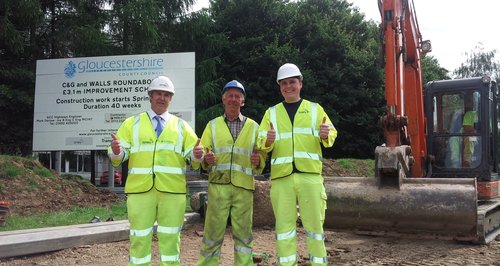 The end of the first phase of the £3.1 million C&G and Walls Roundabouts Improvement Scheme will be complete when the resurfacing of the Walls roundabout takes place next month.
In May last year the Department for Transport approved the county council's bid for £2.2million of funding to help tackle the serious congestion issue at the A38 and A417 at the C&G and Walls roundabouts in the Barnwood area of Gloucester.
The scheme costs £3.1million in total, which will be met with the £2.2 million government funding. The balance will be made up with contributions from Gloucestershire County Council and Sainsbury's.
The scheme includes changes to the junctions, widening of lanes, new more flexible traffic light systems and extra lanes.
Work at the Walls roundabout is now nearing completion with the remaining tasks of resurfacing the pavements, installation of the traffic lights and street lighting works planned off-carriageway from the 30th June.
So the final resurfacing of Walls roundabout can be carried out safely, overnight closures will be needed. These will take place over two weeks on Sunday to Thursday nights. The roundabout will remain open overnight on Friday and Saturday.
The first closure is overnight on Sunday/Monday 13th/14th July with the final closure overnight on Thursday/Friday 24th/25th July.
A signed diversion will be in operation throughout the closure.
Following final surfacing, the Walls Roundabout is expected to be fully operational by the 31st July as planned.
Work at the C&G roundabout began at the end of May with preparations taking place off-carriageway. However to progress the next phase of the work off-peak lane closures will be needed.
These will start at the C&G roundabout Monday to Friday from Monday 30th June, and this could potentially cause some disruption to traffic. These closures, when in place, will be between 9:00am and 3:00pm. There will be no peak lane closures between 6:00am and 9:00am and 3:00 and 7:00pm Monday to Friday.
Cllr Vernon Smith, cabinet member for highways said, ''This work forms part of our wider plans to improve the transport system in the county over the next few years. Investment in our roads is vital for the economic prosperity of the county.
''I'm really pleased that the Walls roundabout improvements will be completed on time, and so far traffic disruption has been successfully kept to a minimum.''
''Whilst we are doing our best to minimise the inconvenience, with the focus of our work switching to the C&G roundabout next week, some travel disruption is inevitable. I urge people who need to use the C&G roundabout to think about their travel choices as there are alternatives to consider. Please bear with us while the improvements are made.''
Find out more here or call 08000 514514.