Gloucestershire: Hospital Status UPDATE
14 January 2015, 11:12 | Updated: 14 January 2015, 11:23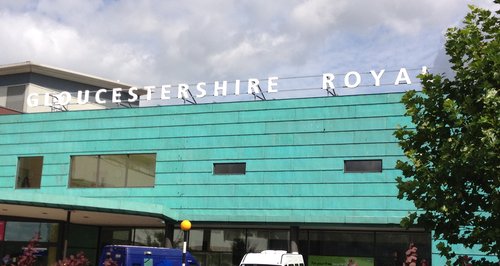 Gloucestershire Royal and Cheltenham General stand down from major incident status - but patients are still urged to keep A&E just for emergencies as "pressue remains on services."
The NHS Trust which runs them entered the heightened level of alert on Sunday January 4 as a result of: "High levels of demand after the festive break, an increased number of frail and elderly patients being admitted and availability of beds."

Dr Sean Elyan, Medical Director, said: "While the hospitals have been stood down and its status level reduced, they are still under significant pressure and this is likely to continue during the winter weeks ahead. Therefore we would advise the public to access A&E only if they have life threatening or serious injuries. Throughout this extremely challenging period we've continued to provide treatment to those patients who really needed acute, emergency or critical care.
Dr Elyan also said: "Ensuring that level of care was provided could only have been made possible through the commitment and dedication of our staff here at the hospitals and also from our partners across health and social care. Their response in extremely challenging circumstances has been really exceptional.
"Finally, I do want to apologise to patients who have had their planned surgery postponed. That's not a decision we take lightly and it is a last resort. We would like to reassure those patients that we will be doing everything that we possibly can to rearrange their appointments as soon as possible either with us or an alternative provider."
Health service options for the public:
The local pharmacy is a great first port of call for minor ailments. Pharmacists are qualified to give advice on a range of conditions, are experts on medicines and can advise people on whether they need to call or visit another NHS service.
If people are unsure about what health services to access, they can also call NHS 111
The Health Access Centres in Eastgate Street, Gloucester and Cassin Way, Cheltenham can see patients with illnesses such as chronic pain, stomach upsets, everyday infections and blocked ears. The Centres have extended opening hours and offer a same-day service, however patients are encouraged to ring in advance (GHAC - 01452 336290) or (CHAC - 01242 548298/548299) to get an appointment time convenient to them.
If a patient has a 'flare up' of a long standing illness such as kidney or lung disease, bronchitis, asthma or diabetes that is not responding to self-care or advice from their pharmacist, a call to their GP surgery is the best course of action to take.
Community Hospital Minor Injury Units across Gloucestershire also treat a variety of injuries and illnesses such as sprains, cuts and wounds, minor fractures and minor head injuries.
Compare live waiting times at Gloucestershire's Hospitals here.
http://www.gloshospitals.nhs.uk
You can find all the details for local services and get self-care advice here.