Fairford: Extra Day For Next Year's Air Tattoo
20 November 2013, 04:00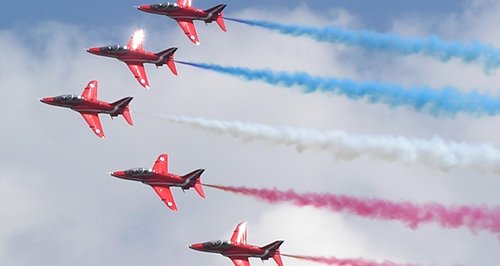 People planning to attend next summer's Royal International Air Tattoo on July 12-13 are being invited to make an extra pit stop as part of the RAF's official celebrations marking the Red Arrows' 50th display season.
Up to 10,000 special Pit Day tickets are being made available for Friday, July 11 offering exclusive access to the world famous aerobatic display team and their aircraft.
The Red Arrows' Pit Day will also enable visitors to watch aircraft arrivals and rehearsals in the morning and enjoy a four-hour flying display in the afternoon including the premier of a special Red Arrows' formation flypast.
Other Pit Day benefits include access to Showground East Red Zone (10am to 6pm), the Red Arrows Village and Vintage Village, the BAE Systems' Hawk and F-16 Anniversary Park plus close access to other international aerobatic teams and their aircraft.
The Red Arrows began life at RAF Fairford in 1964, performing their first display at Little Rissington in the Cotswolds a year later. Since then, they have performed more than 4,500 displays in 54 different countries.
Air Tattoo organisers are working closely with the Royal Air Force and other air arms to stage the UK's premiere internationally-flavoured aerial tribute to the world's most famous aerobatic display team.
Spokesman Richard Arquati said: ''If you love the Red Arrows then the Royal International Air Tattoo is the place to be next summer as we host the biggest birthday celebration for the team in the UK.''
As well as celebrating the Reds' 50th display season, the Air Tattoo will be marking the 40th anniversary of two other aviation landmarks: the 40th anniversary of both the Lockheed Martin F-16 Fighting Falcon and the BAE Systems Hawk, the aircraft currently flown by the Red Arrows.
Find out more here