Gloucestershire Floods: Improving Picture For County
21 February 2014, 16:24 | Updated: 21 February 2014, 16:25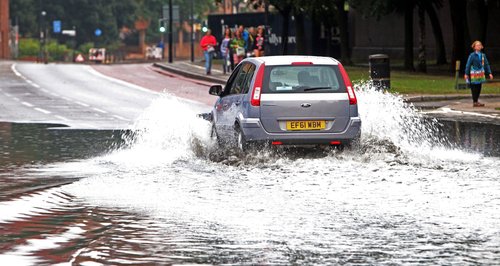 It's an improving picture but we stay prepared - that's the message from partners making up the Local Resilience Forum 'Gloucestershire Prepared'.
Currently seven flood alerts and seven flood warnings remain in place in the county as river levels continue to fall, with most flood warnings along the River Severn.
Forecast rain for Sunday is not expected to reach volumes experienced earlier this month, but the wet weather is hampering efforts to repair roads.
Resurfacing on the A4135 at Cam on Sunday has been postponed due to the forecast. Highway gangs are working hard to reopen roads as soon as it is safe to do so.
The A417 at Maisemore is now open following inspection and cleaning of the road surface this morning.
South Cerney Road and School Lane in South Cerney are also now open.
Highway teams continue to inspect and monitor Spitalgate Lane in Cirencester, and will reopen the road as soon as soon as it is safe to do so.
The B4213 at Hawbridge, Sandhurst Lane, Gloucester and the access road to the Hempstead household recycling centre both remain closed due to flooding.
All other household recycling centres in the county remain open, with Wingmoor Farm in Bishop's Cleeve and Pyke Quarry in Horsley being the closest alternatives.
Trading Standards are asking communities to be aware of doorstep selling. Typically a trader will call at the door uninvited offering to carry out work on the house, such as repairs to driveways, guttering of fascia boarding.
The advice is to not agree to have any work done until you have checked the trader's name and address, got a written notice of a right to cancel, asked for quotes from other local reputable companies and you have a clear agreement on the work to be done and how much this will cost.
Anyone unsure of how to handle a trader cold calling at their door should contact the Citizen's Advice Consumer Helpline on 08454 04 05 06.
In the hardest hit areas district and borough council officers are providing door-to-door welfare support for flood affected residents.
Cotswold District council's waste collector is continuing to pick up flood damaged items from properties at no cost.
Tewkesbury Borough Council is also liaising with parish councils and flood wardens in flood-affected areas to identify where support can be provided as part of the clean-up process.
Gloucestershire County Council has issued two leaflets which offer advice and guidance for residents who have been affected by flooding.
The first leaflet, written jointly with Gloucestershire Clinical Commissioning Group, explores how residents might feel in the days, months and sometimes years after an incident. It provides information on how to find help, if needed.
The second leaflet, produced by Public Health England, explains how to clean up your home safely after a flood. It provides important health advice and some basic precautions to keep you and your family safe while cleaning up your flooded home.
The leaflets can be viewed alongside the council's official Flood Guide here.
Follow @Glosprepared, @GlosHighways, @Glosfire, @Glos_Police and @GlosCC on Twitter for updates using the hashtag #floodglos, or log onto the website www.glosprepared.co.uk