Gloucester: Hundreds Attend Funeral Of Hairdresser
17 March 2014, 19:15 | Updated: 17 March 2014, 19:18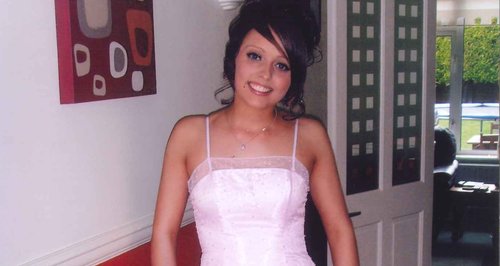 Several hundred people gathered today to say goodbye to a hairdresser who was stabbed to death while working at a salon in Gloucester.
Mourners almost filled Gloucester Cathedral to pay their respects to 20-year-old Hollie Gazzard who died on February 18 after being stabbed at the Fringe Benefits and La Bella Beauty salon in Gloucester city centre.

Around 700 family and friends came together to celebrate Miss Gazzard's life and at her family's request mourners - both young and old - wore bright colours, with many in pink. Miss Gazzard's white coffin was carried into the church by friends as the Bruno Mars song Just The Way You Are was played.

Her parents, Nick, 49, and Mandy, 46, and elder sister Chloe, 23, walked into to the cathedral behind.

During the service, which was led by The Very Reverend Stephen Lake, The Dean of Gloucester, mourners sang All Things Bright and Beautiful, Make Me A Channel Of Your Peace and I Danced In The Morning. Miss Gazzard's grandfather, David Jenkins, read a tribute to his granddaughter in which he drew upon her love of Harry Potter, which ironically was filmed in the cathedral.

Canon Neil Heavisides gave the address and Rev Katy Morgan led prayers. Following the service there was a private cremation.

Speaking last month Miss Gazzard's family said "the brightest star'' in their lives had gone out. They said:

"She was full of life and we are very proud of her. She was at the beginning of her life and to have it taken away in this manner is very hard to bear. The world has lost a treasure, she was so loved by all her family and friends and the brightest star in their lives has now gone out.''

Asher Maslin, 22, of Benhall Gardens, Cheltenham has been charged with murder and is expected to face trial at Gloucester Crown Court in the autumn. He has been remanded into custody.

The Independent Police Complaints Commission (IPCC) is examining Gloucestershire Police's contact with Miss Gazzard before her death.

The IPCC said the investigation would examine contact between Miss Gazzard and the force and there will also be an analysis of how similar matters have been handled by the force.