Gloucester: Zara And Mike Name Baby Daughter - GALLERY
23 January 2014, 16:24 | Updated: 23 January 2014, 16:40
Zara and Mike Tindall have had their first child - a baby girl who they've named Mia Grace Tindall.
Zara gave birth to Mia Grace at Gloucestershire Royal Hospital last Friday.
Buckingham Palace released the following statement on Friday 17th January:
'Mrs Michael Tindall today safely delivered a baby girl at Gloucestershire Royal Hospital. Mr Tindall was present at the birth. The weight of the baby was 7lbs 12oz.
'The Queen, The Duke of Edinburgh, The Princess Royal, Captain Mark Phillips and Mike's parents, Mr Phillip and Mrs Linda Tindall, have been informed and are delighted with the news.
'This baby is the first child for Zara and Mike, the third grandchild for The Princess Royal and the fourth great-grandchild for The Queen and The Duke of Edinburgh, and is 16th line to the Throne.'
Mike Tindall Tweeted the news earlier saying: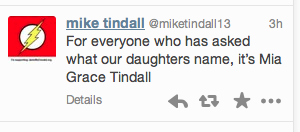 The silver medal-winning Olympian, who is one of Britain's leading equestrian riders, gave birth to her first child early on Friday morning at Gloucestershire Royal Hospital with husband, the former England rugby star, Mike Tindall at her side. The new family of three are believed to have headed to their home on the Princess Royal's Gatcombe Park estate.

The new royal baby Mia Grace, who weighed 7lbs 12oz and is 16th in line to the throne, is the Queen's fourth great grandchild.

Zara's pregnancy was confirmed by the Palace in July, just a few weeks before the birth of the Duke and Duchess of Cambridge's baby son Prince George.

She took a tumble while competing at the Barbury International Eventing and Show in Marlborough, Wiltshire, a few days before her pregnancy became public knowledge. But she was described as ''fine'' by a spokeswoman for Juniper Sport, a PR and sports agency that represents her.

Zara won a silver medal at London 2012 with eventing equestrian teammates William Fox-Pitt, Mary King, Tina Cook and Nicola Wilson, and is planning to take part in the Rio de Janeiro Games in 2016.

She married former rugby international Tindall in July 2011 in a ceremony staged in Edinburgh and attended by the Queen and senior royals.
The baby girl follows Zara's brother Peter Phillips' two children and Prince George to become the Queen and the Duke of Edinburgh's fourth great grandchild. Peter Phillips' daughters Savannah and Isla Phillips was also born at Gloucestershire Royal Hospital in Gloucester.

Zara and Tindall moved back to Anne's Gatcombe Park estate in Gloucestershire last January after selling their regency home in Cheltenham.
The pair first met in a Sydney bar when Tindall was in Australia for the 2003 Rugby World Cup. In the days leading up to the birth of their baby daughter, Zara - who is also a horse trainer - was spotted watching three of her entrants run in the Heythrop Hunt Point-to-Point races in Aldsworth, Gloucestershire, on January 12.

Prime Minister David Cameron sent a message to the happy couple in a tweet - using the hashtag #royalbaby - to say: "Many congratulations to Zara and Mike Tindall on the birth of their baby girl.''

Tina Cook, who won an eventing team silver medal with Zara at the London Olympics, said:
'I'm absolutely thrilled for her, speaking as someone who's got two children myself. It's very exciting that she can now join the mummy ranks. I'm so thrilled for them that they've got such a lovely baby. I've spoken to her already and she and the baby are doing good.'

Mary King, another member of the same British Olympic eventing team, said:
'I'd not heard the news until now but I'm over the moon for her. It's brilliant - a future Olympian no doubt in years to come. She has the right lineage to be one. I had my children while eventing and came back to competing so hopefully Zara will recover quickly and we will see her back eventing very soon.'