Gloucester: Hartpury College Chosen As World Cup Base
26 August 2014, 09:20 | Updated: 26 August 2014, 09:21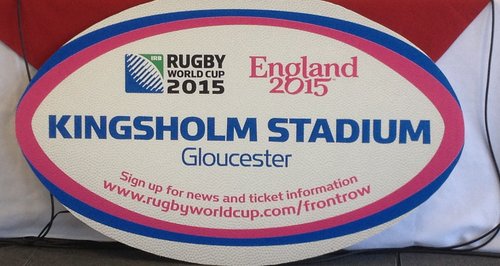 England Rugby 2015 has announced that Hartpury is one of 41 Team Bases for the Rugby World Cup 2015, with 20 competing teams being based across England and Wales.
Hartpury will be a Team Base for Scotland and the USA's Rugby World Cup 2015 squads for the tournament, which takes place in England and in Cardiff between September 18th and October 31st, 2015.
Kingsholm will host three of the matches: USA v Japan; Scotland v Japan and Tonga v Georgia.
The Scotland and USA squads will use pitches at Hartpury College which benefit from the college's outstanding facilities, which include a power gym, a cross-training gym, spa baths, artificial all-weather pitches, changing rooms and physiotherapy and rehabilitation suites.
A range of rugby clubs, schools, universities and dedicated training centres have been selected by England 2015, with the Team Bases extending the reach of Rugby World Cup 2015 to even more communities in England and Wales.
A Team Base will consist of an outdoor pitch, indoor training facility, a swimming pool, gym and hotel and will be used by the competing teams in the lead-up to and during the six-week event. The facilities must meet international team training standards and be located on one site or within close proximity of one another.
Match venue locations have also been taken into account as part of the selection programme.
The search for Team Bases was launched via an open tender process in May 2013 and over 90 bids from across the country and in Wales were received. Hartpury has worked closely with England Rugby 2015 over the past 12 months to facilitate detailed site visits and liaison with the teams prior to confirmation of its status as an official Team Base for Rugby World Cup 2015.
With Scotland and the USA being based at Hartpury and matches being played at Kingsholm, Gloucestershire has been given a unique opportunity to play a leading role in the world's third largest sporting event and celebration of rugby next year.
Hartpury Principal, Russell Marchant, said: ''We are absolutely thrilled to have been named as a Team Base for next year's Rugby World Cup. With two international teams based at Hartpury, Gloucester Rugby players set to be involved for a range of nations and Kingsholm hosting matches, the city will be at the heart of the action. It's a real reflection of Gloucester's proud rugby heritage and reputation.
''We're exceptionally proud of the facilities we have at Hartpury and our international reputation as a centre of excellence for elite sport, particularly rugby, having produced more than 100 rugby internationals in the last 10 years.
''They include the likes of England's Jonny May and Wales' Alex Cuthbert, not to mention three former Hartpury students and coach having recently lifted the Women's Rugby World Cup for England, an achievement which we are hugely proud of.
''We're certainly no strangers to hosting international teams and players here either but it will be fantastic for our students and staff to have Scotland and the USA based here for such a high-profile tournament. It's also a great opportunity to continue to strengthen our partnership with Gloucester Rugby.''
USA manager Tristan Lewis said; ''I can tell you why we have chosen the bases we have - simply put they offer the best opportunity for us to train well as well as give us the opportunity to be a part of English culture so that everyone has fond and lasting memories of England; it's history and wealth of pageantry.
''The team will be based in four venues which is different to a lot of the teams who are choosing to stay in one place and do short match day weekends. So we are in Portsmouth for the match in Brighton, Leeds for Scotland, Hertfordshire for the match at the Olympic Stadium with South Africa and finally Gloucester for Japan.''