Newent: Discarded Cannabis Bags Found
23 January 2014, 16:42 | Updated: 23 January 2014, 16:44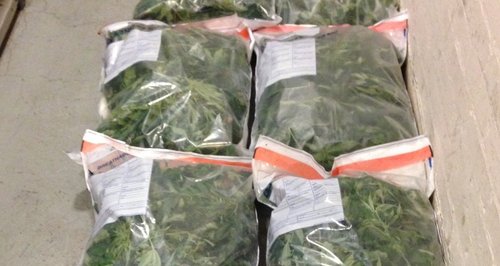 Officers from the Forest proactive team (Operation Rapier) have recovered several discarded bin bags full of cannabis plants.
The 17.5kg haul, with a street value estimated to be between £60,000 and £70,000, was discovered by a member of the public just off Court Road in Newent on Wednesday January 21st.

The drugs will now be destroyed but officers are appealing for anyone with information to call 101, quoting incident 159 of January 21. Rapier's Sergeant Andy Johnson said:
"We're not sure why the drugs were left behind however the team are very active across the Forest area and are achieving some excellent results, something we're sure that hasn't gone unnoticed by those who continue to break the law.
Our inquiries will carry on into this find but in the meantime we would urge anyone who witnessed any suspicious activity in this area recently or who knows anything about the dumping of these plants to contact us.
Operation Rapier continues to act on intelligence relating to crimes being committed within the Forest, including illegal drug use and we see first hand the devastatingly negative impact crime and drugs has on families and how this can affect the quality of life for everyone.
If you have information about drugs or any other crime in the Forest area, then please call us on 101 or Crimestoppers anonymously on 0800 555 111."