Gloucestershire Police Weather Driving Advice
11 February 2014, 17:35 | Updated: 11 February 2014, 17:39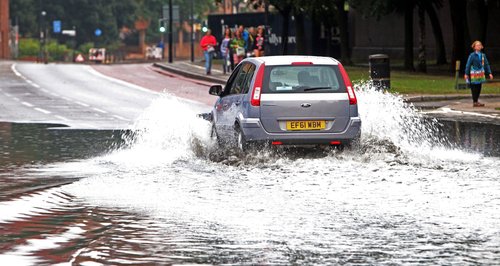 Gloucestershire Police are reminding the public to take care around flooded areas as the current very wet conditions are expected to continue through to the weekend and possibly into next week.
Heavy rain and strong winds are predicted on Wednesday and Friday with the already saturated ground expected to get another soaking.

Superintendent Bridget Woodhall said:
"The sustained heavy rain and strong winds will continue to take its toll on affected areas this week and into next. Many major trunk roads across the county could potentially be affected, causing disruption to road users and putting further pressure on the County's road network.
We will work along with the other emergency services and other agencies to check on resident's welfare and ensure that business is as usual as it can be under the circumstances in Gloucestershire"

Inspector Owen Hughes of Tewkesbury Local Policing Area urged residents to check on vulnerable neighbours who may be affected by the weather. He said:
"The weather that we have been subjected to recently is testing for anyone, but it's especially difficult for vulnerable members of society. We know that there is a real community spirit across this County, but it is really important that residents look out for their neighbours. We'd encourage you to knock on your neighbour's door to check that they are safe and that have everything they need. That simple gesture could make a real difference."

The following advice will help keep residents safe during the adverse weather:

With any kind of intense weather, travelling can be a challenge. There are still potential problems so please plan carefully and drive with caution. Ask yourself if your journey is essential or could it be rearranged for when conditions improve.
If you are out and about and spot any tree debris or flooding on the roads, these can be reported online or by calling 08000 514 514.
Should you encounter anything like a fallen telephone cable or power line across a road, please do not attempt to cross it, keep a safe distance and notify the police by calling 101 or e-mail 101@gloucestershire.police.uk. Downed power lines can also be reported to National Grid on 0800 465 1212.
Sandbags have been and are being delivered where it is deemed to be necessary
Monitor the Environment Agency's website for flood alerts and warnings
Drive with consideration and avoid driving through flooded water as it could cause additional flooding or damage to your vehicle