Gloucestershire: Prepared For More Bad Weather
7 February 2014, 14:47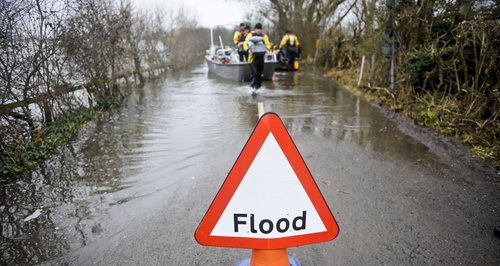 Gloucestershire authorities are prepared for potential disruption due to the weather this weekend.
Further rain and high winds are forecast throughout tonight and Saturday while river water levels will remain elevated.
Superintendent Bridget Woodhall said: "The main concern is the potential for some structural damage and trees blocking roads, particularly in the Forest of Dean.
"Please drive with care and consideration this weekend and report any incidents by calling 101. Our lines could be busy so we would appreciate your patience. You can also email us at 101@gloucestershire.police.uk. "Our advice for residents in areas at risk of flooding is to continue to monitor the Environment Agency's website for flood alerts and warnings.
"River levels are due to peak on Monday and Tuesday and, in the worst case scenario we could see up to 50 more properties affected so we will be prepared to help evacuate any communities if necessary.
"In the meantime I know the local authorities have plans in place to check on residents' welfares and keep them informed of the situation."
Dafydd Evans, Area Manager for the Environment Agency, said: ''With further heavy rain falling over the next few days, we expect rivers, particularly the Severn, to continue to rise and remain high for some time. I urge people to check their risk and prepare. Our flood warnings are updated every 15 minutes on our website, or call Floodline on 0345 9881188.''
Area Highways Manager Jason Humm, of Gloucestershire Highways, said: ''We are anticipating high winds and heavy rainfall this weekend and extra teams are on standby, ready to respond. Meanwhile we are continually assessing the situation in the county and we would urge people to avoid driving through flood water - they won't know how deep the waters or the potential dangers hidden below the surface."
Gloucestershire Fire and Rescue Service crews are, as always, ready to respond to emergencies in the county.
Richard Rogers, waste water manager for Severn Trent said: ''We're aware that even more bad weather is coming and we're working hard to get ready for it. We've already got plenty of staff on the phones in our call centre and lots of teams available out and about across the region to deal with flooding issues. We're also out and about keeping an eye on those areas with a high risk of flooding.
''Unfortunately, in stormy weather, the drains and sewers often have significantly more water flowing through them. When we get a lot of rain in one go, it has a hard time sinking into the ground; so it just runs off the surface and goes directly into drains and sewers.''
And Richard is offering the following advice for customers who are experiencing flooding: ''If you have flooding at your home, check to see if it's just rainwater or if it's sewage that has come from an overflowing sewer, possibly through a manhole cover in your garden or outside your property. If it's just rainwater, the flooding should subside when it stops raining, although it can take up to four hours for water to drain away, so be patient. Where sewage is escaping this is obviously a priority for us, so please call us on 0800 783 4444 and we'll get a team out to help as quickly as possible.
''If you're concerned about flooding from drains and gullies in the road, you should call the local council as they are responsible for road drainage, but again, we generally find that the flooding will go away when it stops raining.''
Councils in the Forest of Dean, Tewkesbury, Stroud and Gloucester City have confirmed they are ready to open rest centres if needed.
For up to date information, please follow @Glos_Prepared on Twitter using the hashtag #floodglos, or log onto the website www.glosprepared.co.uk.