Record breaking flamingo chicks at Slimbridge
19 June 2014, 09:12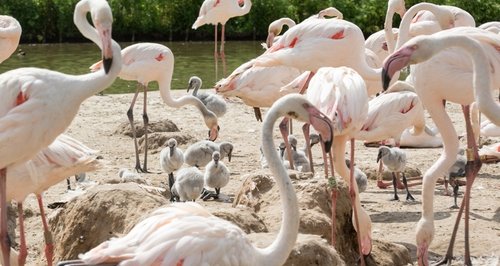 There are 35 new fluffy pink chicks running around at Slimbridge - beating the previous flamingo flock record.
The last big coop was 25 newborns in 2010.

Gloucestershire's Greater Flamingo flock, with 245 adult birds, is the largest in Europe.

Mark Roberts, aviculture manager, said: "It is really quite incredible as the wet weather in May certainly made rearing challenging for them."

"Their nesting island is now made out of sand rather than mud which has been shown in recent studies to be better and they really like the environment of Flamingo Lagoon, so I think it must be down to these factors."

"It is a stunning sight to see all the chicks around the nesting island; the observatory has been busy with visitors enjoying watching all the action."

Now the bumper collection is being taken care of by the flock in supervised 'crèches' the parents are having a bit of time to themselves.

Flamingos in the wild and in captivity rear their chicks using crèches. The chick's parents still crop feed the bird but for long periods of the day the chicks will stay with each other with just seven or eight 'nanny' adults supervising them.

Four of the world's six flamingo species are classed as 'Vulnerable' or 'Near Threatened' by the International Union for Conservation of Nature (IUCN).

It's thought there are less than 30 breeding sites left in the whole world - and the Wetland Centre is home to all six species of flamingo.