River Severn: Flood Warnings And Alerts
4 January 2014, 07:08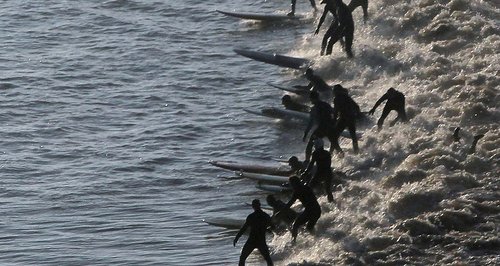 Severe flood warnings remain in place on the River Severn.
This after strong winds and rain created a tidal surge on the river, which led to flooding in Minsterworth and Maisemore.
Gloucestershire County Council's highways teams and Gloucestershire Fire and Rescue Service crews remain on standby this weekend following heavy rain and the overtopping of the River Severn in the last couple of days.
A handful of roads in the county, including part of the A48 and the A417, were closed on Friday because of bad weather which led to some surface water on the highways and a tidal surge along the River Severn, causing banks to spill and parts of the road network nearby to become flooded.
The roads are now open again to traffic, though temporary signals are currently in place on the A417 for the safety of drivers.
Some smaller lanes in the county remain impassable, and drivers are urged to take extra care, with standing water still likely in other parts.
The Environment Agency is warning that river levels in the county could still rise in the coming days, though this is not expected to cause the issues we have had today.
Meanwhile, the Met Office is anticipating temperatures of around -2 degrees in the county overnight on Saturday. Gritters will be out on the network as usual but, with the amount of surface water on the roads, drivers are being urged to be extra careful in case of icy conditions.
There is also further heavy rain anticipated in the south west on Sunday and, given the saturated ground conditions in Gloucestershire, there is a chance of further surface water on the county's roads. Highways teams are monitoring the situation closely and ready to respond to any further weather related incidents.
Cllr Vernon Smith, cabinet member for highways and floods, said: ''The county was very well prepared for this band of bad weather and highways crews will continue to ensure we are ready to respond to any further complications.
''There is more rain forecast for the weekend and we will continue to work with the Environment Agency and district councils to ensure local people are informed and the roads are as safe as possible.''
Gloucestershire Fire and Rescue Service has had no emergency calls to date related to flooding issues in the county but, as always, crews are ready to respond if called upon. You can report any issues on the roads via www.gloucestershire.gov.uk/reportit or call 08000 514 514. Weather response updates will be posted on Twitter via @GlosHighways and @GlosCC and further information about the county's emergency response are available at www.glosprepared.co.uk/