Royal Tree Stolen In Tetbury
30 December 2014, 12:21 | Updated: 30 December 2014, 12:42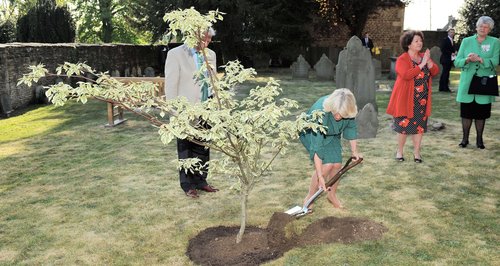 Police are appealing for information following a tree being uprooted and stolen in St Mary's Church, Tetbury.
The theft took place from the churchyard of the parish church of St Mary the Virgin and St Mary Magdalen, Church Street, sometime between 21 – 28 November.

Unknown offenders uprooted a 6 feet high 'wedding cake' tree ('Cornus Controversa Variegata') which had been planted in 2011 by The Duchess of Cornwall in honour of the marriage of Prince William and Kate Middleton. (see above)

The tree is the property of Tetbury Town Council.

Anyone who has information about this incident is asked to contact Gloucestershire Police on 101, quoting incident number 99 of 5 December.

You can also give information anonymously by contacting the charity Crimestoppers on 0800 555 111 or via www.crimestoppers-uk.org and you may receive a reward if someone is arrested and charged.
(Pic. Tim Ireland/PA Archive/Press Association Images)