Gloucestershire: Severn Bore Warning
31 January 2014, 17:32 | Updated: 31 January 2014, 17:33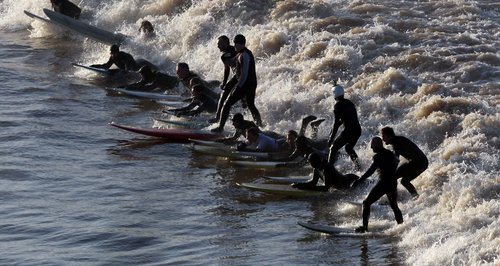 Gloucestershire authorities are preparing for this weekends Severn bore and tidal surges.
On Saturday and Sunday mornings the bore will be travelling up the estuary and this will be followed by a tidal surge and authorities are reminding people about the potential dangers.
Superintendent Emma Ackland is asking people not to take any risks. "We appreciate people will want to see the Severn Bores this weekend but we are asking that people don't take any risks. There is potential for the river to overtop the defences in some areas and this can happen really quickly. If you do decide to visit the river, please stay alert to events around you and don't put yourself in a dangerous situation."
Acting Chief Fire Officer Geoff Sallis says crews are ready if they are called. "We are monitoring the situation closely and working with our partner agencies on a coordinated response. Our officers are on standby to respond if we are needed."
Meanwhile authorities are making the necessary preparations. Tewkesbury Borough and Stroud and Forest of Dean District councils are ready to stand up rest centres if required and are working with the health services to ensure vulnerable people are safe.
Environment Agency Manager, Dave Throup is asking people to take the usual precautions. ''Our advice to people living in areas at risk of flooding is to move important documents, personal items and valuables upstairs or to high shelves. Wherever possible, raise large items of furniture and move any outdoor belongings or cars to higher ground.''
For up to date information, please follow @Glos_Prepared on Twitter using the hashtag #floodglos, log onto the website www.glosprepared.co.uk