Tewkesbury MP Calls For UK Football Team
9 July 2014, 11:59 | Updated: 9 July 2014, 12:10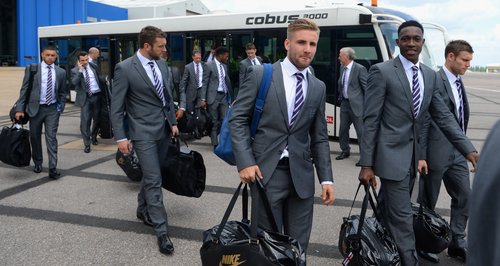 Tewkesbury MP Laurence Robertson says a United Kingdom football team should be formed in the wake of England's first-round failure at the World Cup.
England, Scotland, Wales and Northern Ireland fielding separate teams limits the chances of international football success for the union, according to the Conservative MP.
Mr Robertson put forward the idea for the UK team in an early day motion (EDM) before Parliament. He says that "no other nation fields more than one national team'' and calls on the football authorities in each of the home countries to "come together and form one national football team covering the UK''.
An EDM is a formal motion submitted for debate in the House of Commons although very few are actually debated.
Wales last appeared at the World Cup finals in 1958 - the last occasion when all four home nations played at the same tournament - while Northern Ireland last took part in 1986 and Scotland in 1998.

England won the World Cup in 1966 but have since endured 48 years of hurt, culminating with the Three Lions securing a solitary point in Brazil and finishing bottom of their group behind Costa Rica, Uruguay and Italy.

A Great Britain football team appeared at the London 2012 Olympics although only consisted of English and Welsh players.

The Scottish, Welsh and Northern Irish Football Associations were opposed to a combined team entering in 2012 despite assurances from Fifa that it would not affect their independence as footballing nations.

Mr Robertson's EDM states in full:
"That this House notes with regret England's early exit from the 2014 World Cup; recalls that England has not won the World Cup since 1966; further notes that on three occasions since 1966 England has failed to qualify for the World Cup Finals at all, that Scotland has only qualified for eight World Cup Finals out of a total of 20, that Northern Ireland has only qualified for three and Wales has only qualified for one in 1958; believes that fielding four teams from the UK reduces the chances of success and has denied World Cup opportunities to outstanding British players; observes that no other nation fields more than one national team; and calls on the football authorities in each of the home countries to come together and form one national football team covering the UK.''