Two Men Jailed For Life For Gloucester Murder
20 June 2014, 15:09 | Updated: 20 June 2014, 15:15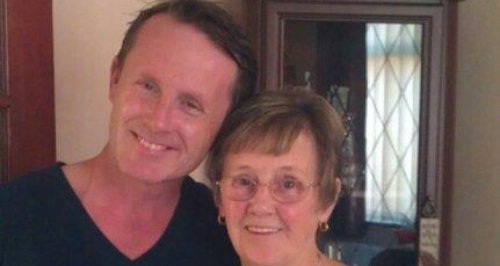 Two men have been sentenced to life in prison for the murder of Victor McDermott in Gloucester last year.
Simon Martin Boswell, 49 and of no fixed abode and Andrew Bentley Lawrence Harling, 45 and of no fixed abode, will both serve a minimum of 18 years in prison for the attack on the evening of Wednesday November 27 2013.

44-year-old Victor [pictured above with his mother Madeleine], who was originally from Bolton but had recently moved to Gloucester, met up with Boswell and Harling at the flat of another acquaintance in Roman Quay House in the city. Following an argument about a bottle of wine and a phone charger, they viciously assaulted him and dragged him down the stairs of the block of flats before attacking him again and dumping his body next to bins in a nearby car park. His body was left unclothed and covered only by a sleeping bag.

Victor had suffered catastrophic injuries to the head, ribs and torso and his body was discovered the next morning by a member of the public.

Extensive investigations and scrutiny of CCTV in the city by detectives meant officers were able to establish the movements of the defendants leading to and after the attack on Victor. Images of Boswell and Harling dragging Victor's body from the block of the flats and then kicking and jumping on him proved to be a key piece of evidence in the case.

The Senior Investigating Officer, Detective Chief Inspector Steve Porter, head of Gloucestershire Police's Major Crime Investigation Team, said:

"Whilst the trigger to this attack may appear minor, what happened next was an horrific, violent attack on a defenceless and vulnerable human being. Even when Victor McDermott was unconscious and defenceless, he was dragged, kicked and beaten before being dumped unclothed next to some bins like a piece of rubbish on a cold winter's night. The extent of the attack is highlighted by the fact we had to resort to fingerprint analysis to identify Victor.
I would like to thank all of the members of the public who came forward as witnesses together with the hard work of police officers and staff who helped to piece together exactly what happened in this case and bring it court.

However, my thoughts now are with Victor's family and friends, who have been through an horrific ordeal. I know nothing can begin to compensate them for their loss, but I hope today's verdict will at the very least give them a sense of justice for what has happened and their unnecessary loss."