Gloucestershire: Malawi Commonwealth Team Arrives
1 July 2014, 16:00 | Updated: 1 July 2014, 16:07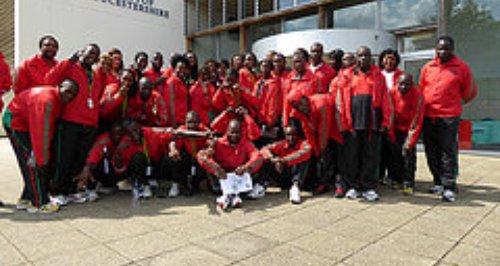 The University of Gloucestershire is playing host to the sports stars of Malawi in the run-up to the 2014 Commonwealth Games in Glasgow.
Sixty team members will have arrived in the county and will stay in student halls at the University's Park Campus in Cheltenham and Oxstalls Campus in Gloucester until Sunday, July 13th.
The team, comprising the world-renowned Malawi national netball team, nicknamed 'The Queens' - who are ranked fifth in the world - will include swimmers, track and field athletes, boxers and weightlifters. There will also be a bowling team, table tennis players, cyclists and a judo team, as well as coaches, team doctors and managers.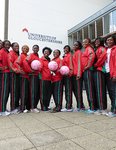 Back in the summer of 2012, a much smaller Malawi team of six athletes held their training camp in Gloucestershire in the run-up to the London 2012 Olympics. A Gloucestershire Consortium, made up of the University, Gloucester City Council, Cheltenham Borough Council, Sandford Parks Lido and Aspire Sports and Cultural Trust, brought the Olmpic team to the county and provided facilities for their training camp in the county.
The relationship between the University and Team Malawi has since grown and now staff and students from the institution are looking forward to welcoming a much larger squad ahead of the Commonwealth Games that are taking place in Glasgow.
The Malawian team will be using the extensive facilities and expertise at the University to aid their training in preparation for the Games. The team will also be utilising other specialist facilities in Cheltenham and Gloucester, including GL1, Fight Factory, the Prince of Wales Stadium, Sandford Parks Lido, Leisure@Cheltenham and Montpellier Bowls Club.
Andy Pitchford, Director of Sport at the University of Gloucestershire, said: "We are absolutely delighted to host the Malawi team again in the county and many people will remember their stay ahead of the London 2012 Olympics with fond memories.
"They will be bringing a much larger team this time and it is fantastic that the athletes will be based across our Park Campus in Cheltenham and Oxstalls Campus in Gloucester. We will ensure the visiting team have the best possible experience in Gloucestershire, and enter the Commonwealth Games in Glasgow fully prepared for the demands of the competition.
"Our students and staff will be fully involved during the two-week stay, including our Sports Therapy students who will be providing daily massage to the athletes to help the preparations. The excellent facilities in the county and at the university, along with the support of the local community, will provide a perfect environment for the final stages of their preparation."