Flooding In Gloucestershire
17 February 2014, 07:03 | Updated: 19 February 2014, 14:17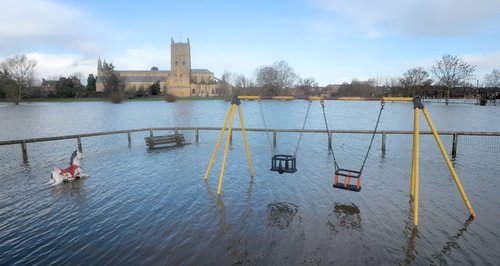 With weather warnings in place for the region, here's where Heart will keep you up-to-date on how Gloucestershire is affected.
The authorities are keeping a close eye on levels on the River Severn after all the heavy rain we've had recently.
Tewkesbury Borough Council is continuing to provide free, filled sandbags to vulnerable properties and areas across the borough, they can be collected from the following locations: Tewkesbury School, Tewkesbury Baptist Chapel, Tewkesbury Borough Council's offices.
There is a flood support line running in Tewkesbury - during working hours the number to phone is 01684 295010. Out of hours (pre. 8.30am and post 5.30pm) the number is 01684 293445.
Gloucestershire Council say they are putting £50,000 into a flood relief grant to help people whose homes have been hit by flooding.

They are offering a thousand pounds per flooded property to help replace damaged furniture and essentials.

Find out how you can apply here.
Although the weather is improving, there is a warning of further flooding as groundwater levels remain so high, you can get the latest on the weather here.
The Environment Agency have got flood warnings in place along the River Severn. Latest information here.
Read Heart's live updates below. To hear the latest, tune to 102.4FM in Gloucester/Cheltenham, 103FM in Stroud, or click "Listen to Heart" at the top of this page. We're also on DAB Digital Radio or the Heart App.
Flooding Advice
If you are affected by flooding the advice from the Environment Agency is:
If it's safe to do so, block doors with flood boards or sandbags and cover airbricks and other ventilation holes.

Move family, pets and valuables to a safe place.

Keep a flood kit ready including a torch, batteries, fully charged mobile phone, warm clothes, water, food and any prescription medicines you may need.

If it's safe, make sure your neighbours are aware of the situation and offer help to anyone who may need it.

Avoid walking, cycling or driving through flood water.

Turn off gas, electricity and water if your property is about to flood.

Never touch an electrical switch if you are standing in water.
Call Floodline on 0845 988 1188 for up-to-date flooding information.