Service For Bereaved Parents
14 July 2013, 06:00
A specialist service is being put on in Borehamwood for couples who've experienced the loss of a child.
Janet Sackman has been doing the service in Cambridge for 20 years.
She told Heart she's had miscarriages herself so she knows how it feels:
"Its a very isolating expense because you go from one minute you're expecting a baby and you're planning what your going to do to bring the baby into your life and suddenly thats all snatched away from you"
The service is at St Teresa's Church on Sunday July 14th at 3pm.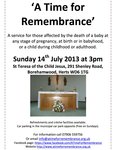 Ms Sackman said:
"It is not like a regular church service, there will be prayers and some very short bible readings really to cater to the desires of those people do go to church and are looking for a religious element but there's a lot of non-religious content like songs from Robbie Williams and Celine Dion"