Save Sleeps Til Santa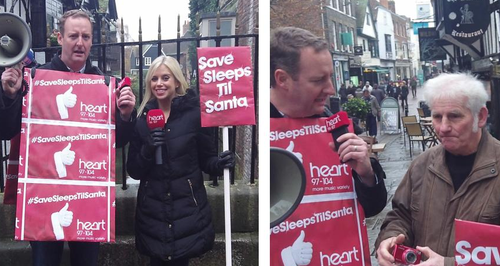 So here at Heart the boss Stuart is thinking about dropping Sleeps Til Santa this year
Sleeps Til Santa is a little song we play out each morning counting down the days until Christmas!
We don't agree with Stuart and it seems you don't either all wanting to Save Sleeps Til Santa – you've been brilliant showing your support so we did our bit too – we went onto the streets of Kent…waving a placard…wearing a sandwich board and with a megaphone...
And here's what you've been up to - Carl wrote this poem "oh Stuart Stuart you are a grinch, It seems you are the one to lynch, Save sleeps til Santa for us all, Or do we have to make a call, To Santa so he checks his list, And make sure you're the one that's missed!"
Here's Lucie from Canterbury with her poster to the boss and also Alaska the dog!