Bowling Alley Closes
3 July 2013, 13:38 | Updated: 3 July 2013, 14:00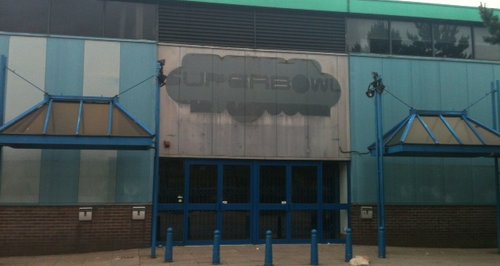 Central Milton Keynes' original ten pin bowling complex has closed down, ahead of the redevelopment of the Leisure Plaza.
Mega Bowl shut its doors for the final time on Sunday 30 June 2013, leaving the Leisure Plaza almost completely derelict.
One end of the building has been derelict for more than a decade, since The Empire nightclub closed in the early 2000s. The Phoenix Gentlemen's Club has also been closed.
The Leisure Plaza redevelopment will see the ice rink refurbished, and a new Morrisons supermarket built at the southern end of the site, where Empire used to be. Two other new retail units will also be built.
The Planet Ice rink is due to close on Sunday 14 July 2013 so the refurbishment can begin. It will see new seating and a new reception area built around the existing ice pad.
Planet Ice will be closed for several months while the refurbishment takes place. The MK Lightning ice hockey team will play their home games in Coventry while the redevelopment takes place.
The Leisure Plaza opened in the late 1980s with an ice rink, a ten pin bowling alley, a nightclub (then called The Golden Flamingo, later renamed Flamingo's and then Empire) and a restaurant/bar in another building on the complex.
The Leisure Plaza was the heart of Milton Keynes' nightlife in the early 1990s but it suffered badly when nightclubs and pubs opened at The Theatre District, at the other end of Central Milton Keynes.
Milton Keynes will only be without a ten pin bowling alley for three months, as a new Hollywood Bowl is due to open in Xscape on 15 October 2013.
What memories do you have of the old Leisure Plaza? How do you feel about the plans to refurbish the ice rink and build a new Morrisons supermarket?