Bus Fire At Milton Keynes Train Station
7 May 2014, 16:07 | Updated: 7 May 2014, 16:36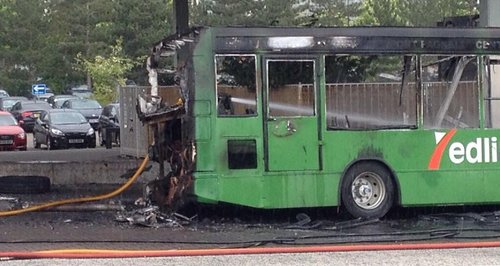 Fire crews have put out a fire involving a bus at Milton Keynes Train Station.
Buckinghamshire Fire Service crews were called to the flames spreading from the vehicle to the building in Elder Gate in Central Milton Keynes at around 3:20pm today.
Two appliances and crews from Great Holm were sent to the scene.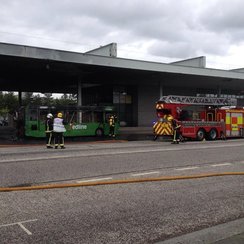 Firefighters used a jet, a hose reel, a dry powder extinguisher and two sets of breathing apparatus to extinguish the flames.
Reports suggest the vehicle was empty when flames took hold.
South Central Ambulance Service says it was not called to the incident, and Buckinghamshire Fire and Rescue Service has confirmed there were no injuries and the driver got out safely.
Elder Gate leading to the Train Station was closed following the fire, but has since re-opened.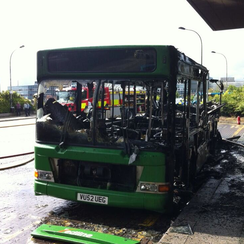 The bus was destroyed and the building canopy was damaged by fire and smoke.
The cause of the fire has not yet been confirmed, amid unconfirmed reports of an explosion being heard on the vehicle.
Trains were not disrupted by the fire.
Heart Reporter Amy Woodfield (@HeartNews_Amy) tweeted the following from the scene:
"I've been told there were no passengers on board and the driver got off safely #MiltonKeynes #busfire"
"Reports a loud 'bang' was heard and most significant damage seems to be at the rear of the bus #MiltonKeynes #busfire no word on casualties."
Bottom picture from @tvprp on Twitter.