Olympic Dream Dashed
7 February 2014, 10:51 | Updated: 7 February 2014, 10:59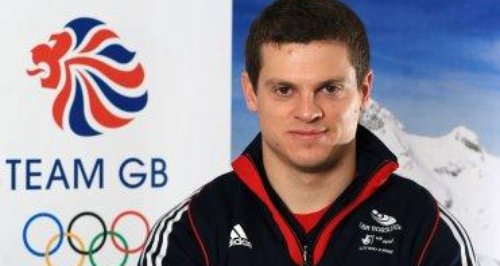 Former sprinter Craig Pickering, from Milton Keynes, has been forced to withdraw from Team GB's Olympic bobsleigh team because of a back injury.
Pickering, 27, (pictured) who was part of the 4x100m relay squad in Beijing in 2008 and a member of the Milton Keynes Athletics Club, had been set to become only the eighth athlete to represent Great Britain at both a summer and winter Olympics.

He had been due to race on both the two-man and four-man events at the Sanki Sliding Center in the Russian city of Sochi, sustained his injury on Sunday 2 February during the team's pre-Olympic training camp in Konigssee, Germany.
Pickering said he was "devastated'' to be missing out on the Games after suffering what Team GB officials described as an L3-4 acute disc prolapse.

Pickering said: "Having missed out on competing at the London 2012 Games due to a back injury I am devastated to have suffered a similar fate just days before the start of the Sochi 2014 Olympic Winter Games.

"We worked so hard to qualify the GBR 2 sled for the Games and I am gutted that I won't be on the start line with Lamin (Deen), John (Baines) and Ben (Simons).

"I would like to thank all the staff at British Bobsleigh who have been incredibly helpful in making sure I've had the best support and treatment both in Germany and back in the UK.

"I will be cheering the boys on from the UK and wish the rest of Team GB the best of luck in Sochi.''

Pickering had helped Deen squeeze into a qualification place in the final week of the regular World Cup season in both the two-man and four-man disciplines.
The British team will now be able to call up a named replacement for Pickering, although it is likely one of the existing team members will transfer to take over Pickering's berth in the two-man sled.

British Bobsleigh team leader Gary Anderson said: "This is a big blow and I am personally devastated for Craig.

"I spoke with him just after we heard from the doctors and he was clearly very upset, he had worked so hard to get to the point of selection for Sochi.

"Craig is a very professional athlete and his concern for the team illustrated that.

"We will now consider the options open to us, and the coaches will sit down over the next 24 hours and evaluate the next move and selection, both for the two-man and four-man competitions.

"We are fortunate that we have a fantastic squad, which has strength and depth, so we know that whoever replaces Craig will put in a credible performance for Team GB.''