Armed Raid: Store Family Defiant
2 August 2013, 06:00 | Updated: 4 August 2013, 06:54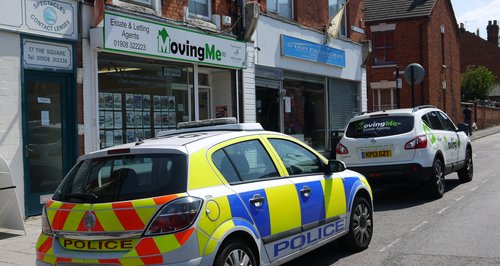 The family running a clothes and materials stores in Wolverton have told Heart they were determined to open again after being the victim of an attempted armed robbery on an Asian gold store next door.
Two men, wearing burkhas designed for women, went into the Star Fashions store on The Square, Wolverton at 2.10pm on Wednesday 31 July 2013, demanding access to the neighbouring Asian Gold Store.

Family members have told Heart, one of the would-be thieves was seen carrying a gun, but Thames Valley Police say it is yet to be ascertained whether the firearm was real or an imitation. Nothing was taken.
One of the family members, who we've agreed not to name, told us it was a terrifying experience. "The men were standing outside - very tall - which was why they stood out, they looked so unusual.
Then all of a sudden they were inside - demanding access to the Asian Gold store next door. I was shouting and reading out verses of my Qur'an as I was so scared.
They looked like they didn't know what they were doing. One of them told me to stand where I was or he would shoot me. I thought ok, I'll stay here, but when he said he's shoot my daughter I became so frightened I thought he could shoot me if I could save my daughter.
But then they ran out of the shop after striking my husband on the shoulder - he tried to chase them but they got in the car and drove off.
One of the men - was of African appearance - I could tell by a little bit of his face which was showing and his voice. I'm not sure about the other man. Another person in shop said he might be white - but they were both very tall - around 6 foot at least."
Detectives say the offenders left the scene in a black car, possibly a Fiat 500.

DS Luke Grove, who is investigating, said: "I would appeal for any eyewitnesses, or anyone who can provide information that might lead to identification of the offenders to contact the police immediately.

I would like to reassure the public that incidents of this nature are uncommon in Milton Keynes, and that the Force will conduct a thorough investigation into the crime."

Anyone with information is asked to contact the Thames Valley Police Enquiry Centre on 101, quoting URN 676 of 31 July.

If you don't want to speak directly to the police you can contact the independent charity Crimestoppers anonymously on 0800 555 111 or online at www.crimestoppers-uk.org. No personal details are taken, information is not traced or recorded and you will not go to court.