Greg Comes Up Short
14 August 2013, 11:13 | Updated: 14 August 2013, 11:37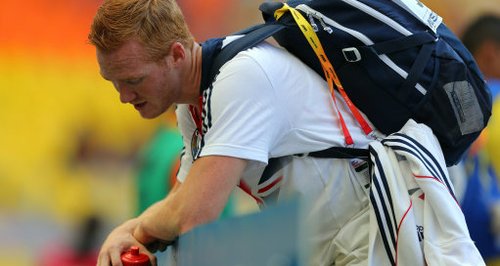 Greg Rutherford's failed to qualify for the long jump final at the World Athletics Championships, just a year after he won gold at the London Olympics.
The Milton Keynes athlete finished 14th in qualification in Moscow on Wednesday 14 August 2013, managing a best of 7.87 metres - well shy of the 8.31m that won him gold at London 2012 on the so-called 'Super Saturday'.
Greg, 26, has been struggling with a hamstring injury but he was selected ahead of fellow Brit Chris Tomlinson, who was fully fit.
Rutherford believes his selection for Moscow by UK Athletics performance director Neil Black was a "no brainer'' despite furious criticism from Tomlinson.

An already irked Tomlinson was furious at Rutherford's performance and vented his fury on Twitter.

"Words can't describe my anger season ruined on media profile & not current athletic form,thanks for the support from the athletics community,'' he wrote, before hastily deleting the post.

Tomlinson later added: "Thanks for the support,choosing not to tweet (again) will regret it when my blood pressure settles!! Good luck to all the team il see u soon.''

By that point, though, Rutherford had already been asked about Tomlinson's comment and launched a staunch defence of his selection.

"Ultimately I'm still British number one as it stands and still jumped further multiple times than him this year,'' he said. "I've beaten him every time apart from when I got hurt.

"I think in any event, no matter what if you're looking at somebody better whose failed the distance that year but won more head-to-heads and still has a major title behind them, it's a no brainer.

"Surely, you'd pick anyone in any event in the same scenario?

"Again, Chris is obviously going to be upset but there's nothing I can do about that.

"We both put ourselves in a not-great position by not jumping an 'A' qualifier so that's what it comes down to.

"We had plenty of opportunities and when speaking to Neil Black, he gave us a two-week extension, he didn't give that to anyone else.

"So we should have got the job done. And it just gave me enough time to get fit.

"I'm feeling pretty good but just not jumping far enough at the moment. I'm not too concerned about tweets and whatever else.''

Today's performance capped a miserable follow-on year for Rutherford in which he has also lost his sponsorship and split with his American coach Dan Pfaff.

After injuring his hamstring at the Paris Diamond League meeting at the start of July, he had pledged not to travel to Russia if he did not think he could win a medal.

So, in hindsight, did Rutherford make the right decision?

"Yeah, I think so,'' he said. "I genuinely did feel as if I could.

"We went through so many different tests just to see where I was at.
"I was running really, really quick, hitting the board really nicely in all practice sessions we'd had so there was no reason why not.

"For whatever reason today whenever I took off I just didn't have that extra bit that I've normally had and I don't think there's any way of testing that in competition.

"You never really know what's going to come out and you've got to bear in mind.''

Rutherford was one of three British athletes in action at the Luzhniki Stadium on Wednesday 14 August.

Sophie Hitchon missed out on a place in the hammer throw final after failing to improve on her first-round effort of 68.56m.

There was better news for Chris O'Hare, whose eighth place in three minutes 38.86 seconds was enough to secure a place in the 1,500m semi-finals.

"I knew coming here that I was going to have to push it hard,'' he said.

"I was trying to win like it was a gold medal. I didn't have as much as I'd have hoped in the last 100m but these guys are the best in the world so I'll take something home from that and maybe know to save a little bit more for the last 100m.

"I hadn't watched the other heats very intently because I knew that if I was going to make it I was going to run with a lot of heart and a lot of guts so that's what I did.''