Greg Rutherford Honoured
17 July 2013, 09:16 | Updated: 17 July 2013, 10:35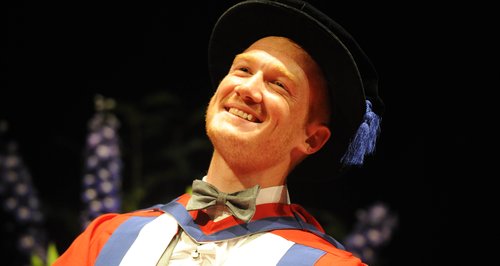 Olympic long jump gold medallist Greg Rutherford has been given an honorary degree by the University of Bedfordshire.
The 26 year old from Milton Keynes, who won gold on the 'Super Saturday' of London 2012 that also saw gold medals in the Olympic Stadium for Jessica Ennis and Mo Farah, picked up his degree in a ceremony in Bedford on Tuesday 16 July 2013.
Receiving it, Greg told an elated crowd: "I would like to pay a huge thank you to the University of Bedfordshire. You never expect, when you are out training, to be recognised in this way.
"Of course I want to pay a huge congratulations to all the graduates here today. I can relate to you (the graduates) in some ways because we all have sacrificed a lot to our work. However I can't say I can relate in terms of all the nights out!
"It's a huge honour for me to be here and I'm privileged to celebrate with you guys."