Khat Ban
4 July 2013, 12:08 | Updated: 8 July 2013, 12:58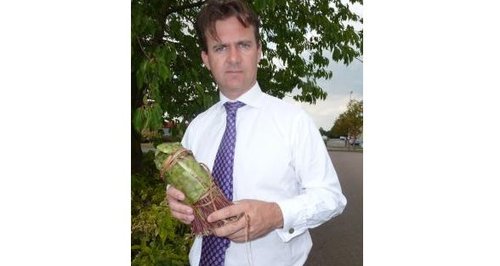 A plant chewed by people in Somalian communities is going to be criminalised, following a campaign by a Milton Keynes MP.
The Home Secretary Theresa May has decided to make khat a Class C drug, despite officials at the Advisory Council on the Misuse of Drugs concluding there is no need for a ban.
Khat makes users feel more alert, happy and talkative when it is chewed. It is being made a Class C drug over worries about the effect it is having on users and communities.
Milton Keynes North MP Mark Lancaster (pictured) has been campaigning for four years to get khat banned. He took up his campaign after being contacted by members of the Somalian Community based in his constituency who were worried about the effect the drug is having on social cohesion, health and family breakdown.
There are also concerns the UK is becoming a regional hub for the illegal onward trafficking of Khat to countries where it is already banned.
Commenting on the news khat is to be criminalised, Mr Lancaster said: "It is great news that after a long campaign the Government have listened and acted on the concerns of my constituents, this is the right decision and will be widely welcomed throughout the UK."
A range of drugs experts and policy campaigners have condemned the ban as 'yet another disappointment.'
Niamh Eastwood, executive director at drug policy campaigners Release, said: "Once again the government chooses to ignore the evidence when it comes to drug policy.
"The ACMD recommended that khat should not be banned, and this has been ignored. There is no evidence that criminalisation has any tangible effect on the rates of drug use in a society."
Around 2,560 tonnes of khat, worth £13.8m, was imported into the UK in 2011/12, bringing in £2.8m in tax revenues.
Khat is also enjoyed by people in Yemeni and Ethopian communities.
The intoxicating herb is sold in small shops and cafes in bundles worth £3 to £6 each. Most users chew around one or two bundles in an average session lasting up to six hours.
The leaves of the product contain cathinone, which has a similar but less intense effect to cocaine.