Life Sentence For Rachel Manning Killer
4 September 2013, 11:14 | Updated: 4 September 2013, 12:24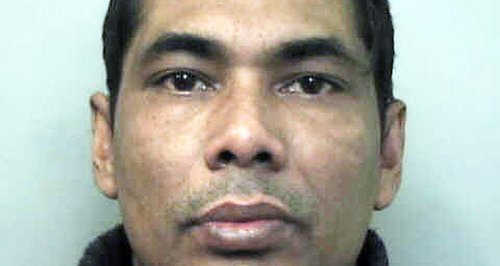 A restaurant worker's been jailed for life for the murder of Milton Keynes teenager Rachel Manning.
The body of the 19 year old was found in undergrowth on Woburn Golf Course, Bedfordshire, nearly 13 years ago.
Shahidul Ahmed (pictured) is the second man to have been convicted by a jury for the killing of Rachel, who was abducted after getting lost on her way home from a 1970's theme fancy dress party.
The shop assistant, who had been wearing a white embroidered cheesecloth blouse, a dark mini skirt, a pair of hot pants white knee length boots and a blue wig, was strangled from behind. After death, her face was disfigured after being struck 17 times with a car stop lock.

Her boyfriend at the time Barri White was convicted of her murder and spent nearly six years in jail. He was cleared after a retrial.

Ahmed, 42, was arrested for a sex offence in 2010 and his DNA was found to match that on the stop lock that had been discarded 500 metres from where Rachel's body had been dumped. A hair on her hot pants was also linked to the father of five.

Today a jury at Luton Crown Court convicted restaurant worker Ahmed of her murder on 10 December 2000.

Passing sentence Mr Justice Wilkie told Ahmed of Chestnut Crescent, Bletchley that he must serve a minimum of 17 years in jail.

For Rachel's parents Liz and Paul it was the fourth time they had to endure a murder trial. They sat through the trial and retrial of Barri White. In February this year another jury had failed to reach a verdict Ahmed.

This jury of seven men and five women were told that when detectives first investigated the teenager's death they arrested Barri White. In 2002 he was found guilty of the murder and jailed for life.

The case against him had been that he attacked Rachel in a phone box close to Milton Keynes city centre and strangled her shortly afterwards. They had spent the evening at his mother's party before going on to Chicago's night club.

Rachel's body was found two days days later in undergrowth at Woburn Golf Course, eight miles from Milton Keynes.

Barri White's conviction was overturned in the Court of Appeal and, six years into his life sentence for her murder, a retrial was ordered. It followed an investigation by the BBC's Rough Justic programme. In 2008 at Luton crown court, Mr White was acquitted of the murder.

He gave evidence at Ahmed's trial saying he would always regret that he and his girlfriend became separated on the night she was killed. "I wish I had never left her that night," he said.

It was two years after Barri White's acquittal that Ahmed came to the attention of Thames Valley detectives. He had sexually assaulted a woman who got into his car after a night out in May 2010. She believed he was a taxi driver and when she got out of the car he touched her indecently.

The woman was helped by a passerby, who got part of the registration number of Ahmed's car. He was convicted of the offence in 2011. A sample of his DNA was obtained by police, and was found to match DNA the police had retained from the Rachel Manning murder investigation.

Rachel's blood was on the steering lock which had been used to inflict facial injuries to her after her death. The other DNA profile on the lock couldn't be matched to anyone at the time. Following the arrest of Ahmed, detectives got a breakthrough they were looking for when the DNA was found to match his. The hair on her hot pants was also linked to Ahmed.

During the three week trial the jury heard how Rachel who lived in Wolverton, Milton Kernes and her boyfriend Mr White had gone out together on the night of Saturday December 9 2000 to his mother's fancy dress party. With others they had later gone on to Chicago's night club in Milton Keynes city centre.

Outside the club in the early hours Barri White got involved in an argument after being accused of throwing a kebab over another man. Rachel still in her fancy dress clothes tried to calm the situation.

Barri White decided he was going to walk to the home of his friend Keith Hyatt on the Fishermead estate and set off. He told Rachel to get a taxi home.

In the witness box, Mr White, now 33, told the court he had been at Mr Hyatt's home when Rachel rang from a call box. She was lost on the Oldbrook estate and wanted him to collect her. He said he told her to go to the nearby Blockbuster Video car park. His friend Keith drove him there in his transit van, but they could not see her. They waited for five or ten minutes before driving around the estate to look for her.

They went back to Keith's house where he made a call to Rachel's flatmate before they went out in the van again to look for her. He said they made three trips in the van before he went out on foot to look for her.

Mr Hyatt was also tried with Barri White in 2002 and was jailed for two and a half years for perverting the course of justice. His conviction was also overturned.

The prosecution alleged it was shortly after Rachel's call from the phone kiosk that Ahmed came across the teenager and strangled her before driving her body to the golf course. The motive was probably sexual, said Ben Gumpert prosecuting.

Mr Gumpert said advances in science had meant that Ahmed's "hiding place" had been taken." He went on:"If Shahidul Ahmed is not the murderer he would have to be the victim of monstrous coincidence."

In a statement read to the jury Rachel Manning's mother Liz said: "She was a vibrant and happy girl - looking forward to the New Year."

Sentencing Ahmed the judge said: "Rachel Manning was a charming, witty, gregarious, happy, positive person who had made to look forward. You snuffed all that out driven by the same demon that led you, in 2010, led you to carry out a sex assault.
"You must have accosted Rachel when she was at her most vulnerable. She was on her own in Milton Keynes. When she rebuffed your advances you resorted to a cowardly attack from behind and killed her."

The judge went on: "You must have known that two other people - Barri White and Keith Hyatt - had suffered the agony of being accused, convicted and imprisoned for offences of which they were wholly innocent. Nobody can bring back Rachel's lost life and their lost years."

After Ahmed was sent down to the cells Mr Justice Wilkie praised the "admirable stoicism" of Rachel's parents who had sat through four trials in the past 10 years.

Barri White was not in court for the verdict and sentence.