Winter Wonderland Closes
15 December 2013, 11:47 | Updated: 16 December 2013, 07:11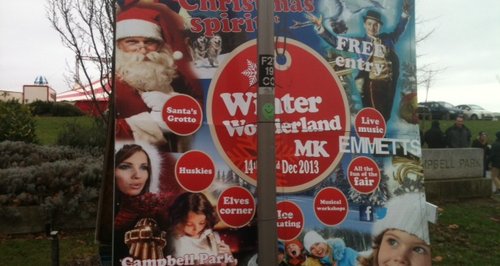 The Winter Wonderland in Milton Keynes' Campbell Park has closed after a storm of complaints from parents.
Negative reaction surfaced on social media from people who had visited on the attraction's opening day on Saturday 14 December 2013.
Heart has spoken to a number of parents who said the event wasn't up to the standard they expected.
Many said what was promised on the website was not delivered, and families were presented with what was essentially a muddy field.
The event should have been declared as officially open at 2pm on Sunday 15 December by Iain Stewart MP and Deputy Mayor of Milton Keynes, Subhan Shafiq.

It would have been the first Christmas such an attraction has been held in MK and visitors to it were promised "an exciting range of activities and attractions to surprise and delight your children and entire family, such as ice skating, live music, Santa's Grotto and more!"
The event's Facebook page was deluged by parents angry at the quality of the Wonderland and it was eventually taken down on Saturday after a barrage of criticism from parents.

Those who had paid £6 to take their children to Santa's Grotto found it was closed for much of the day and when it did open the Santa's were described as being young thin men in Santa suits.

They complained that the advertising suggested more than two husky dogs and two reindeer would be at the Winter Wonderland.

Father Christmas is said to have been described as wearing a cheap "Poundland" Santa suit with his day clothes clearly visible underneath.
More than 270 angry comments have been posted on a blog started by mum Steph, who described her family visit to the attraction as 'not exactly magical'. http://www.babynatal.co.uk/winter-wonderland-mk-a-disaster/
The charity that was set to benefit from the event pulled out following complaints by visitors and feedback from their volunteers.
The Papworth Trust issued a statement saying: "As the benefitting charity associated with the Winter Wonderland MK event, we have been concerned to hear about the issues on the opening day. We are sorry to hear about people's experiences of the day.
"After consulting with our volunteers and listening to the public's feedback, we have sadly decided to withdraw our volunteers and our association with the event. We were hoping that this event would raise money for our work helping older and disabled people with essential support and care.

"We are not the organisers of the event, and we encourage everyone who would like to give specific feedback about their experience to email the organisers on info@wwmk.co.uk."
Organisers have told Heart that everyone affected will get a refund and people who've pre-booked will get an email telling them how to claim back the money they spent.
They say they have closed the attraction for health and safety reasons because of staffing problems.
In a statement, The Parks Trust said: "We are very sorry to hear that some people have had such a disappointing experience at Winter Wonderland MK. We have been in touch with the organisers Winter Wonderland MK who have advised us that regrettably they have now cancelled this event.
"Winter Wonderland MK have told us that they will be contacting all the customers on their database to arrange refunds and that people should get in touch with them via their website www.wwmk.co.uk or by email at info@wwmk.co.uk.
"Before The Parks Trust hires out any sites out to third parties we do ensure that organisers have robust health and safety policies, are fully insured and have a detailed event management plan in place. We also liaise with the local authority and the police through the Safety Advisory Group. We are saddened that Winter Wonderland MK did not meet some customers' expectations."