£19 Million New Building For Felixstowe Academy Opened
25 March 2014, 11:39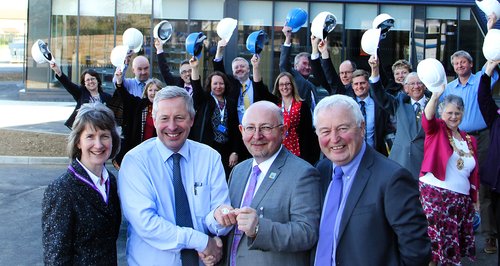 Students will start working in a brand new state-of-the-art building at the academy in Easter.
The new 11,000 square metre campus holds up to 1800 students and has lots of great new facilities for students, including;
A new lab to meet all modern science curriculum needs.
A theatre style main hall with flexible seating arrangements, including a retractable seating system, and brand new sound and lighting system to support Academy and community productions, as well as events.
A performing arts and activity studio that will provide specialist facilities for dance and gymnastics.
And new sports facilities including a sports hall and multi-use games area built to national standards to cater for competitive netball matches. Sports provision will also be extended with the demolition of the Orwell High School site from April 2014 and its conversion into sports fields. The existing all-weather sports pitch will also be retained.
As well as this, the new building boasts lots more teaching classrooms and specialist facilities for things like, Design and Technology and ICT.
The Academy has been designed and built using modern and energy-conserving materials and techniques - including intelligent lighting controls, solar panels and a biomass wood pellet burning boiler and heat recovery ventilation.
The keys to the building were given over to Felixstowe Academy Principal, Andrew Salter, at a small ceremony yesterday afternoon. Speaking at the event, he said:
"When I arrived at the Academy new build on this bright sunny morning I could hardly believe that the day had finally arrived for the handover of the keys to this fantastic new building. I am really looking forward to welcoming our students into their new Academy building later this week. I very much hope that they will be excited with what they will see and that this new, bright, colourful and truly inspiring space will help them to achieve and to truly 'make their best better'."
In September 2009, Suffolk County Council decided that a new Academy should be established in Felixstowe - from the closure of Deben and Orwell high schools.
This was to be funded by the Government's Building Schools for the Future (BSF) programme. However, following the end of the BSF programme in July 2010, the Department for Education approved funding for the building through the Education Funding Agency. The sponsor, Academies Enterprise Trust (AET), took forward its plans to create the new Academy on this basis.
Ian Foster, chairman of Academies Enterprise Trust, said:
"This exciting new development is the fulfilment of our original pledge to the students and staff that every young learner will be able to thrive in an environment which has first class facilities and the most up to date resources."
Councillor Lisa Chambers, Suffolk County Council's cabinet member for education, skills and young people, said:

"Students and staff at Felixstowe Academy are right to be excited by the prospect of moving into this fantastic new building.
"These modern facilities - designed around the needs of young people and their all-important education – will create the best possible environment within which teaching and learning can flourish.
"This is a significant investment in education in Suffolk and the county will be stronger for it."