A11: Fiveways Roundabout Closures Begin Tonight
4 October 2013, 12:40 | Updated: 4 October 2013, 12:43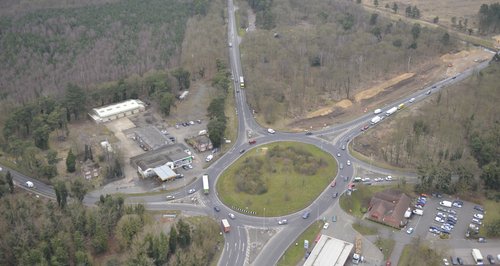 Months of road works have already been causing delays on the A11 - but the people behind the project say it's about to get worse before it gets better.
The £105 million project to dual the final stretch of the road moves to the Fiveways roundabout at Barton Mills from tonight. Then for three weekends in a row the roundabout will shut with various diversions depending on the work going on.
Heart's been told they've chosen October for this work to avoid disruption to tourist traffic in the summer and to Christmas traffic later in the year.
The depending on the direction of the traffic being diverted the traffic will go through Mildenhall or as far as Bury St Edmunds.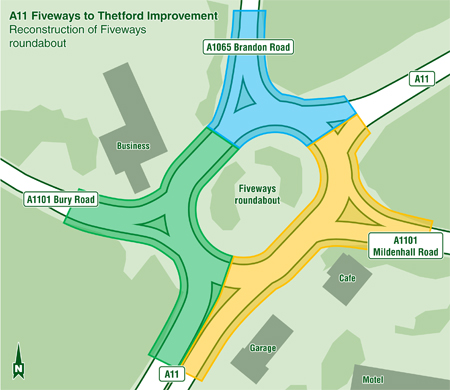 Highways Agency project manager, Geoff Chatfield, said:
"Work to construct the A11 dualling and improvement scheme is progressing well and as planned. The redesign of the Fiveways roundabout, which includes adding more capacity for road users, is an essential part of the project and will ensure that the roundabout continues to operate well after the dual carriageway opens.
"We have to close sections of the roundabout to give the road workers space to operate in. By doing it over three weekends we avoid the need to close the roundabout entirely, and means we can get the work completed as quickly and as safely as possible.
"We are committed to keeping disruption to road users to a minimum, so we have carefully planned the work to take place at weekends only, when traffic flows are lower, and outside of the busy school holiday periods."
Below is a map of the planned diversions: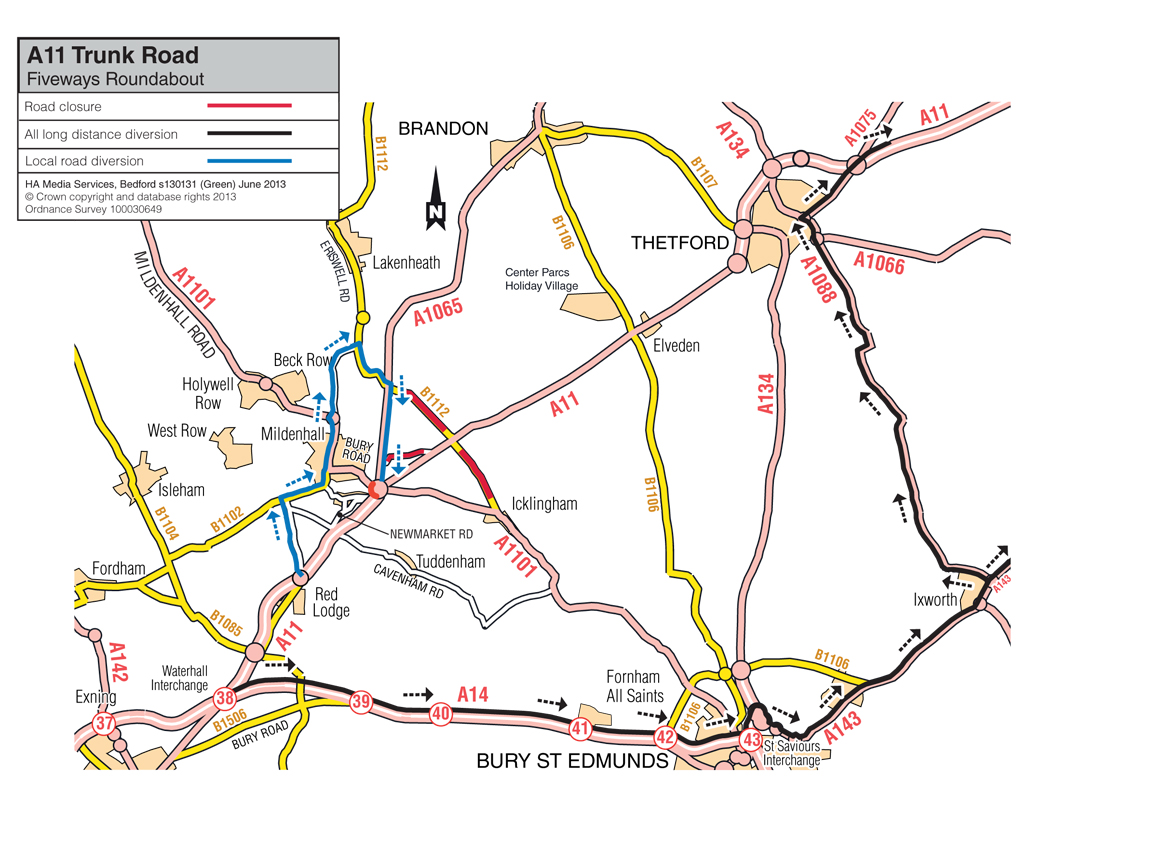 But, Businesses in the area have raised concerns about the amount of customers they'll lose because of the closures. The Bull Inn in Barton Mills have told Heart:
"The Bull is a coaching inn and as such relies heavily on it's passing trade. The Government are supposed to be supporting the licensed trade and small businesses and I'm totally shocked at how the Highways Agency have dealt with this. What is the point in chucking money at small businesses for loans and then not assisting in such a basic fundamental issue? We predict this closure will take £1,000's off our takings this weekend and as a small privately owned business I find the Highways total disregard of the issue very disappointing."