Bildeston - Man Jailed For 20 Years For Murder
10 January 2014, 17:04 | Updated: 10 January 2014, 17:09
A man's been sentenced to 20 years in prison following the brutal murder of a man in Bildeston, near Stowmarket.
Barry Estabrook, aged 44 and from Brooksfield, Bildeston appeared before Ipswich Crown Court after entering a guilty plea to murder at a hearing on Thursday 12th December.

Summing up in court, Judge Gooding heard from the prosecution that on the evening of Saturday 31st August 2013, Barry Estabrook and Brian Knock, aged 38 years, also from Bildeston, had been drinking separately in the Red Lion Public House in the village.

Both men made their way back towards their respective homes with Estabrook getting a lift and Brian Knock walking home.

The court heard that the two men had come together outside the address where Brian Knock had been living in Brooksfield which resulted in Mr Knock being stabbed multiple times.

Estabrook left the scene, returning to his home address where he made admissions on a social media site that he may have killed someone and contacted his sister saying similar things.

Estabrook's family members arrived at the scene where Brian Knock's body was found.

The ambulance service was contacted who in turn called the police at approximately 4.15am Sunday 1st September.

Brian Knock was pronounced deceased at the scene at approximately 5am.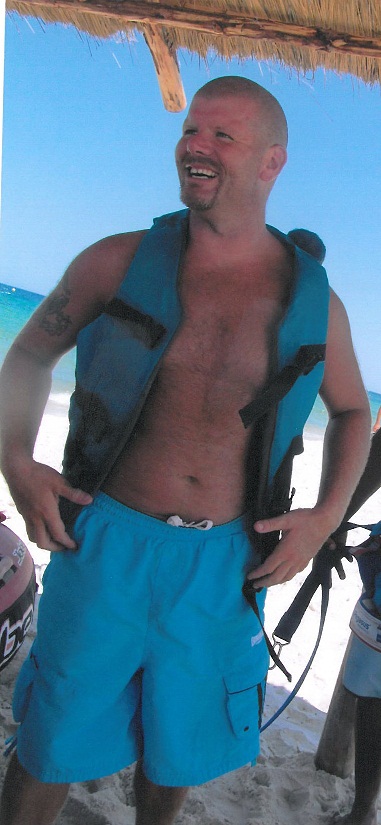 Pictured: Brian Knock

Police were alerted to the fact that a car was seen leaving the area without any lights on. Officers followed the car which was found a short while later crashed into a hedge on Wattisham Road in Bidleston.

Estabrook was found hiding in a ditch and as there were concerns that he may have been carrying a knife, he was tasered by officers before being arrested on suspicion of murder and taken to the Bury St Edmunds Police Investigation Centre.

A Home Office post mortem examination confirmed that Brian Knock died as a result of multiple stab wounds. 21 stab wounds were found on his chest, neck and arm.

Following Estabrook's arrest, officers attended his home address and found clothes, his mobile phone and a kitchen knife in his washing machine, having been through a wash cycle. They also found a shirt with Brian Knock's blood on it.

During the post mortem examination, where x rays of Mr Knock's body were taken, small shards of a knife coating were found; these matched the coating on the knife discovered in Estabrook's washing machine.

Detective Inspector Kevin Hayward from the Joint Norfolk and Suffolk Major investigation Team led this murder investigation and after Barry Estabrook's sentencing he said: "This was a particularly brutal attack where a defenceless man, Brian Knock, sustained horrendous fatal injuries.

"For the sake of Brian Knock's family, I am pleased that Estabrook entered a guilty plea and admitted his guilt in respect of the murder of Brian.

"Suffolk prides itself on being a safe county and thankfully incidents such as this are very rare. I hope after today's sentencing where justice has been done, Brian's family will have some form of closure and be reassured that Estabrook will now be imprisoned for a considerable time.

"Finally and importantly I would like to thank the local community in Bildeston who have helped and supported us through this investigation."