Fake Designer Goods Donated To Charity
7 May 2014, 11:52 | Updated: 7 May 2014, 12:06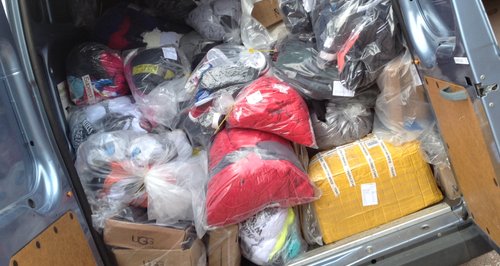 Norfolk Trading Standards is handing over hundreds of items of seized counterfeit designer clothing to a charity that will de-badge and reprocess them so they can be legally reused and distributed to users of other charities in the UK or worldwide.
'His Church' charity is used by Trading Standards services across the country to help ensure seized goods go to a good home instead of having to be destroyed.

The charity will be coming to Norfolk County Council today to collect counterfeit goods that have been seized in the county over the last three years by Trading Standards officers in their work to crack down on the people who make money out of the illegal trade in fakes.

Before that, they will be donating goods that they have already processed to the Pottergate ARC drop in day centre in Norwich. The centre is run by The Salvation Army and they will distribute the items to the homeless and vulnerable people who use their service on a daily basis.

Explaining the work of His Church, Richard Humphrey, Senior Coordinator said: "A big part of our work is to de-badge clothes and rebrand them with our logo which will enable Norfolk Trading Standards teams to meet the duty of care to the trade mark holder that they are responsible for when they put back these items into circulation rather than destroying them.

"Meanwhile, we crush and granulate bootleg DVDs and CDs so they can be recycled into items like pencils.

"There's a really high demand for our work and we are working with 90% of the country's Trading Standards teams, with our overall aim being to distribute the re-branded items as gifts to people in our communities who are in real need and who rarely get the chance to wear new clothes."



Pottergate Arc Service Manager, Nicola Darkin who will be receiving the goods from His Church said: "Rough sleepers, homeless and vulnerable people over the age of 18 use our centre for food, shelter and a hot shower. Sleeping bags and clothing are always in demand.

'Due to a range of changing circumstances, staff at the centre are seeing an increase in people requesting support on a range of different issues, so this donation will be put to good use.