Felixstowe: More Than £2million Of Counterfeit Goods Seized
19 December 2013, 06:00 | Updated: 19 December 2013, 06:11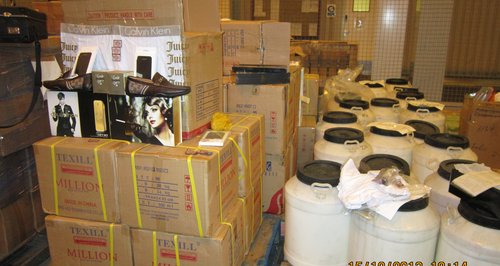 Border Force officers at the Port of Felixstowe have seized counterfeit goods worth more than £2million as Christmas approaches.
Fake perfume, shoes, clothing and mobile phone accessories have all recently been recovered at the port. They're often of inferior quality, can be dangerous and the proceeds are often used to fund serious organised crime.

Immigration Minister, Mark Harper said: "Cheap counterfeits undercut honest traders and leave shoppers with goods that are at best inferior to genuine products and, at worst, harmful or unsafe.

"The international trade in counterfeit goods is serious organised crime and is a serious threat to the UK economy in terms of lost profits and tax revenues and are estimated to cost the economy around £1.3 billion a year.

"We have Border Force officers operating 24 hours a day at ports, airports and mail sorting centres detaining counterfeit items that could otherwise end up as gifts this Christmas. The public can play their part in disrupting the trade by ensuring they only buy from genuine retailers."

Recent seizures by Border Force officers at Felixstowe include:

· 256 cartons of Gucci and Adidas branded clothing worth an estimated £1,731,000

· 3,888 bottles of Paco Rabanne, Carolina Herrera and Gucci perfume worth an estimated £226,348

· 1,045 fake mobile phone covers branded Hello Kitty, Chanel, Spiderman and Transformers worth an estimated £18,890

· 708 pairs of Gucci branded shoes worth an estimated £141,600

· 1,200 pairs of Calvin Klein underwear and Juicy Couture labels worth an estimated £25,000

Kevin Sayer, from Border Force at Felixstowe, said: "Criminals' attempts to smuggle counterfeit goods into the UK is a year-round endeavour – the seizure of bogus Adidas and Gucci clothes worth nearly £1.75m was made in August for example – but at Christmas the temptation of cheap fakes for consumers is inevitably greater.

"Many people enjoy finding a bargain but, quite simply, if a price appears too good to be true it probably is."

After suspected counterfeit goods are detained by Border Force, officers approach the rights holders to verify that the products are fakes. The rights holder then decides whether or not to bring a private prosecution against the importer. After this process is complete, the goods can be destroyed.

Counterfeit items purchased over the internet – often by unsuspecting buyers – and imported through the postal system can be seized, leaving the buyer out of pocket.

Ruth Orchard is Director-General of the Anti-Counterfeiting Group, which represents most of the brands under attack by the counterfeiters. She said: "Counterfeiters gear up for Christmas like legitimate manufacturers and retailers. Most fakes are still made overseas and once they enter the country millions of pounds worth of counterfeits appear for sale at markets, discount stores, car boot sales and on the internet.

"Everyone loves a bargain, but consumers need to know that behind every fake is a complex chain of criminals and fraudsters with one aim – to part you from your cash and use it to fund more serious organised crime. Border Force is the front-line defence against counterfeit imports and our members applaud their ongoing efforts."

In the financial year 2012/13 Border Force detained more than 32,000 consignments of Independent Property (IP) infringing goods in postal traffic and more than 1,300 consignments in air and sea cargo, fast parcel and vehicle traffic.