Fire Strike: Reduced Service To Run In Norfolk And Suffolk
25 September 2013, 06:00 | Updated: 25 September 2013, 07:22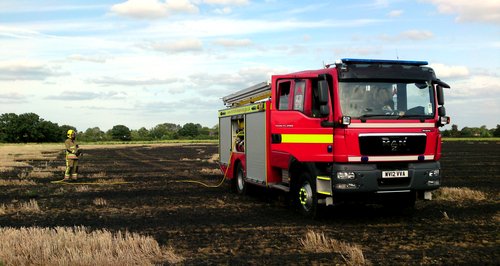 People in Suffolk and Norfolk are being told a 'reduced' service will have to run during the fire strike this afternoon.
Senior fire offices say contingency plans are in place and emergency calls will still be taken during the strike between 1200 and 1600.
The FBU are walking out in a long running row over their pensions.

Assistant chief fire officer for Suffolk, Mark Sanderson, said: "Normal service will be resumed as soon as the strike is finished.
"We will be operating a reduced service over the strike period, but our focus will remain on protecting the people of Suffolk and those who visit our county."
Councillor Colin Spence, Suffolk County Council's cabinet member for public protection, said: "Because of the reduced number of fire engines that will be available, we are asking the public to be particularly careful and vigilant during the four hour strike period. Simple common sense precautions such as testing your smoke alarm, keeping an eye on food cooking, looking out for vulnerable neighbours and friends will reduce the risk of fires. When driving, we encourage people to take extra care, wear a seat belt, do not use a mobile phone while driving and do not drive when tired or after drinking. All of these will help reduce the risk of road collisions."
Dan Roper, Cabinet Member for Public Protection at Norfolk County Council, said: "This will be a testing time for us and we hope for a speedy and constructive resolution to the dispute. Our first priority is to protect Norfolk people and so we will do all we can to keep services running as smoothly as possible.

"This is a time when we need to ask Norfolk people to help us by taking all necessary precautions to prevent fires breaking out and observing speed limits and taking extra care when driving. I would also ask for some understanding in that with the best will in the world, sometimes we will simply not be able to provide the service that is wanted and that we want to give."