A11: New Section Opens To Drivers
28 April 2014, 06:30 | Updated: 28 April 2014, 12:33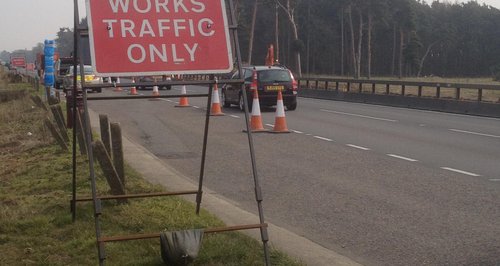 The new section of the A11 has opened to drivers around Elveden overnight.
It is the first part of the new road that has been opened after months of building work to construct a new dual carriageway between the Fiveways roundabout and Thetford.
The developers are describng the opening as a 'key milestone' in the multi-million pound project.
The new bypass will run with one lane open in each direction, and with a 40mph speed limit, between Chalk Hall Farm to near the end of the scheme, just before Thetford roundabout.
HGVs that normally use the C633 towards Bury St Edmunds will be directed to leave the A11 at the new B1106 junction and follow signs to continue their normal route. Advanced warning signs will be placed along local roads directing traffic. Access to businesses and properties along the B1106 and within Elveden Village will remain open as usual, via the new junction.
Once the bypass is opened, work will begin to construct the new southbound slip road less than a mile south of the Thetford roundabout. This work is expected to take approximately 12 weeks.
Highways Agency project manager, Geoff Chatfield, said:
"Work on the A11 dualling and improvement scheme is progressing well, and with the opening of the A11 bypass we have reached a key milestone.
"This opening brings us one step closer to delivering smoother, faster journeys along and around the A11 in Suffolk. We have worked closely with local partners to ensure disruption to road users during the closures is kept to a minimum.
"Although this is just a partial opening with one lane in each direction with a 40mph speed limit for the time being, road users and local residents will see an immediate benefit of reduced congestion and smoother journeys."
The whole new road is expected to open in the Autumn and could cut around 25 minutes of journeys at peak times.