Flooding Hits East Anglia
28 May 2014, 10:17 | Updated: 28 May 2014, 10:22
A number of properties have been flooded across East Anglia after heavy rain hit the East yesterday and last night.
Heart will keep you up to date with the latest - hit refresh to make sure you have the most up to date information.
10:15
A Flood Alert has been issued by the Environment Agency for the River Waveney upstream of Ellingham. Flooding is possible for from Diss to Ellingham, including Bungay.
08:45
A Flood Alert has been issued by the Environment Agency for the Rattlesden River and River Gipping through and including Stowmarket and Needham Market.
08:40
A Flood Alert has been issued by the Environment Agency for the Rivers Deben and Lark. Flooding is possible from Debenham to Bromeswell and the River Lark from Clopton to Martlesham.
08:20
A Flood Alert has been issued by the Environment Agency for the River Stiffkey. Flooding is possible from Great Walsingham to Stiffkey.
08:15
Norfolk County Council's been called around 150 times over the last 24 hours, while Norfolk's Fire Service have been called out around 25 times. Suffolk Fire Service received 4 calls.
06:45
Off to the Suffolk Show today? Organisers have told Heart all services will be running as normal and they can cope with a bit of flooding.
06:00 28th May
The Met Office has lifted its Yellow Warning for heavy rain across Norfolk and Suffolk. We're expecting light rain on and off in East Anglia throughout the day but nowhere near as wet as yesterday.
21.37 Suffolk Show
Message from the show is that they are open on Wednesday - but bring your wellies.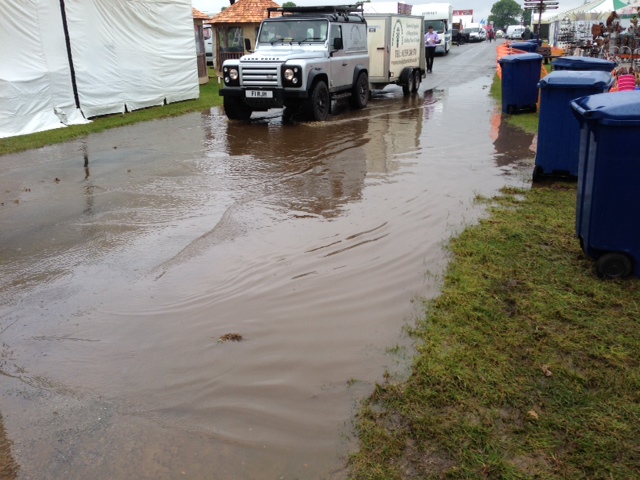 18.35 Travel
Lindbergh Road in Ipswich - flooding around Cobham Rd near the transport museum.

17.18 Travel
Cannerby Lane in Norwich blocked due to flooding at A1151 Wroxham Road.
A1024 Heigham Street in Norwich - surface water.

17.09 Norfolk Fire & Rescue
The fire service assisted with more than 25 flooding incidents in the Norwich area alone and the County Council's customer service centre received around 150 reports of flooded roads and pavements and drainage problems today.

Further rain is expected this evening and overnight and a Met Office severe weather warning for heavy rain covering the whole of Norfolk will remain in place until 2am tomorrow (Wednesday). The Met Office advises that a further 20 to 30mm could fall and cause further localised flooding.

Norfolk Fire and Rescue Service and the council's out of hours highways teams will be ready to respond to reports of flooded roads and measures including flood warning signs, pumping water away and setting up diversions will be used as appropriate.

Norfolk Fire and Rescue Service has the following advice in flooding situations:

Do not compromise your own personal safety or the safety of others

• Don't drive or wade into flood water if at all possible, especially if it is fast flowing
• If you really can't find a different route to drive round the flood, walk across first to check for depth
• If you absolutely have to enter flood water, don't go deeper than the tops of your wellies, and use a pole to probe for holes in front of you
• Have a mobile phone with you, check the signal, and know exactly where you are – when you get stuck, we will need to be able to find you as quickly as possible
• Be patient – these are flash floods, which will subside quickly; you could just wait a bit and see if the water level is dropping.

Flood waters hide a range of hazards:

• Submerged live electrical cables
• Dislodged manhole covers, leaving hidden drops in what looks like shallow water
• Collapsed or weakened culverts and bridges which can give way under you without warning
• Contamination with raw sewage
• Moving flood water can sweep you off your feet if it is only a few inches deep, and will lift up and sweep away a car if it reaches the floor of the car

If roads have become dangerous to pass due to floodwater and pose a safety risk, people should report them by ringing 999.

17.06 Norfolk Police
Police telling Heart of standing water on many roads. Drivers being warned to take care.

17.02 Suffolk Police
Suffolk Police say they've had up to 40 reports of flooding and standing water. Asking people to plan ahead for their journey home.

16.35 - Norfolk Fire & Rescue
On going incident in Banham
15.53 - Norfolk Fire & Rescue
On going incident in Norwich