Great Yarmouth: £11 Million Energy Skills Centre Approved
4 July 2013, 06:00 | Updated: 4 July 2013, 11:14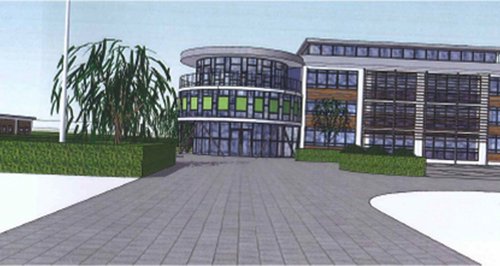 An £11million energy skills training centre has been given the go-ahead by business leaders to be built in Great Yarmouth.
The East of England Energy Group want the EPISCentre project to move on quickly to prove the region's long-term commitment to producing skilled workers for the energy industry.
They have announced today work could start on the £6million building next spring, with it expected to be filled with £5million of equipment, though no exact location has been revealed at this point.

It could prove vital in influencing major international companies thinking of investing billions of pounds into the offshore wind, gas and new nuclear industries.

Great Yarmouth MP Brandon Lewis said: "The EPISCentre will be a fantastic symbol of the enthusiasm and dedication of local businesses to support the delivery of skills into the energy industry."

Blair Ainslie, chairman of the Skills for Energy partnership, part of EEEGR (the East of England Energy Group), said: "The ultimate goal is for local people to be trained locally for careers in a local industry."

The complex is expected to have conference, classroom and workshop facilities on site.

"It will co-ordinate skills training for all energy sectors and encourage and inspire individuals, schools and other interested parties to find out more about opportunities in the industry," said Mr Ainslie. "We expect it to become a national centre of excellence for energy industry skills."

He stressed that EPISCentre would complement and support existing training providers and academic and education centres - not duplicate them.

"It will be a hub at the centre of all the spokes. It is something that industry leaders are driving and we must keep up the momentum and reassure potential investors that we mean business," said Mr Ainslie, also chief executive of Seajacks UK.

Perenco UK operations manager Keith Tucker agreed that the need for skills was pressing and substantial and that EPISCentre offered a primary way to address the industry's concerns.

Consultants Nautilus Associates have been commissioned to review existing training provision in the region and the industry's potential needs for the future.

The aim of EPISCentre will be to create a central point for information, advice and guidance, making it easier for people to find out more about the energy industry's careers and training. It will also provide specialist courses or allow access to equipment that other trainers or colleges may not have.

Stephen Rose, head of offshore wind generation at SSE, said: "The East of England has benefited from the construction of Greater Gabbard Offshore Wind Farm, which has an operations base in Lowestoft, and there will be further opportunities for local employment and suppliers through an extension, known as Galloper. The announcement of the EPISCentre to help support training and development of the next generation of workers for the offshore energy industry is a further step forward for the region." 


David Edwards, chief executive of ECITB (Engineering Construction Industry Training Board), said: "There is a common skills base across the energy industry whether in oil & gas, windpower or new nuclear and EPISCentre will help lead the way in developing careers, not just jobs."

George Nobbs, Norfolk County Council leader, said the council endorsed the project and what do what it could to work with the local industry to help bring it forward. "We cannot overstate the employment potential that the energy sector will deliver to Norfolk and Suffolk, but we must have the means to deliver the right skills for the industry. The EPISCentre will do just that and it will also greatly enhance the attractiveness of our investment offer."