Johanna Young Murder: New Police Lead
21 May 2014, 08:29 | Updated: 21 May 2014, 08:37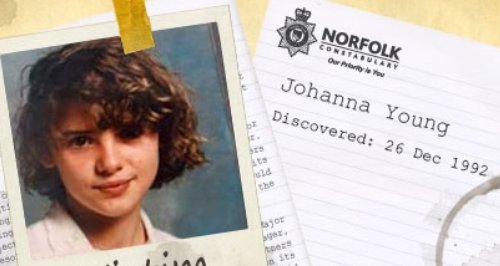 Detectives working on a 21 year old unsolved murder case have today revealed new evidence which could prove crucial to finally bringing the offenders to justice.
After a recent appeal generated fresh lines of enquiry, leading to the arrest of two men, the Norfolk and Suffolk Major Investigation Team are urging even more witnesses to come forward in the Johanna Young murder investigation
Just over two decades ago, on Wednesday 23 December 1992, Johanna left her parent's home in Watton and headed out into the foggy night towards the town centre. One of the last sightings of her alive was around 8:45pm near the clock tower.
Her parents reported her missing the next morning when she failed to turn up for her paper round at 7am and sadly her body was found two days later on Saturday 26 December in an area of Griston Road, known locally as Gilman's Drift or Muddy Lane.
A heartfelt plea from Johanna's parents around the anniversary of her death at the end of last year and a request from the detective leading the case, Detective Inspector Marie James, asking people in the area to examine their consciences and come forward with new information triggered a remarkable response.
The largest number of calls ever received by the Norfolk and Suffolk Major Investigation Team's unsolved case unit in any one case led to a new focus on the case with several pieces of new or freshly reviewed information forming the crux of enquiries.
The first, an anonymous tip off fed through to investigating officers, led indirectly to the arrest of two men, one a man in his 40s from the Watton area and one a man in his 30s from the Thetford area. Both men, known to each other and who lived in the Watton area at the time of Johanna's death, remain on bail.
Another significant line of enquiry came from a review of witness statements taken in early 1993 and, in particular, that of a local dog walker who was walking out from Lovell Gardens the evening of Johanna's disappearance. He reported seeing a young woman, who fitted Johanna's description, and a youth standing at the entrance of Gilman's Drift. The young man was leaning against a motorbike.
The final critical piece of information centred around a call received following the two arrests. This call came from a local man who is now aged in his 40s but who would have been early 20s at the time of Johanna's death. He said he had been driving with a friend out of Watton towards Scoulton on a foggy night late in December when, close to the RAF camp, they stopped the car because they could see a young man walking along the left hand side of the road.
This man, who appeared dishevelled and slightly distressed, was aged in his late teens, wearing a hooded top. The man asked to be taken to Scoulton and was dropped off near the council houses. The caller said he recognised him as local to the Watton area and thought he may be able to help police with their enquiries. Detectives are keen to trace this youth.
Detective Inspector James, who leads the current enquiry, welcomed the developments saying: "We have always said that the answer to this case lies in the information that only local residents can provide us. We would once again appeal to people to look to their consciences and consider, as several people have already done, whether the information they have held onto for over 20 years could be the key to this whole enquiry. Did you see the couple with the motorbike, do you remember a young man looking for a lift – anything, no matter how insignificant it may seem, that could lead to a resolution for Johanna's parents, would be welcomed by the investigating team."