Lowestoft: Man Rescued At Sea
20 February 2014, 14:56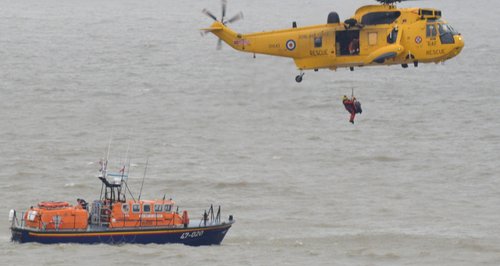 The Lowestoft RNLI lifeboat was launched shortly after 8.10am this morning to go to help an angler who had fallen into the sea from his fishing boat and was unable to get back on board.
The skipper of the 20ft fishing boat Abigail, which had one other person on board, got into difficulties after he fell into the sea from his boat which was a quarter of a mile off the coast in line with the Church of St Bartholomew at Corton.
Humber Coastguard received a mayday call at about 8.10am, following reports that a man had fallen into the sea. The Lowestoft and Southwold coastguard rescue teams, Lowestoft RNLI Lifeboat and the search and rescue helicopter based at Wattisham airfield were all called out and were quickly on the scene.
John Fox coxswain of Lowestoft Lifeboat said "it took us just a few minutes to reach the vessel and as soon as we arrived second coxswain Karl Jackson jumped into the sea to support the stricken man. A rope was thrown to the pair and we were able to pull them alongside. As we knew the helicopter was nearing the scene and as the angler was a large man we decided to continue supporting him in the water and then assisted the helicopter crew to rescue him.
It appears that the angling boat had pitched in the swell and the man had fallen backwards into the sea. The other man on board was very much a novice, this being only the second time he had ever been to sea. The man was believed to have been in the sea for at least 30 minutes and was holding onto a rope until help arrived."
The search and rescue helicopter airlifted the man from the water and took him to the James Paget University Hospital, in Gorleston, for treatment