NDR: Could New Road Be Fast-Tracked?
19 August 2013, 09:23 | Updated: 19 August 2013, 10:43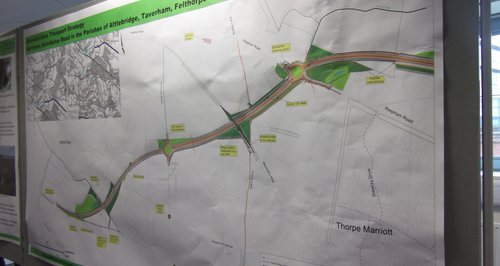 The prospects of Norwich Northern Distributor Road opening to traffic in less than three years have received a major boost from Transport Secretary Patrick McLoughlin who has ruled that the project is of 'national importance.'
The ruling confirms that the Northern Distributor Road (NDR) can continue to follow the Nationally Significant Infrastructure Project (NSIP) development approval process.
The Department for Transport has written to Norfolk County Council with a direction that the NDR should be treated as a project "of national significance" because:


It provides a link from the Trans European road network (the A47) to Norwich International Airport,

It supports growth, including 135ha for businesses and jobs,

It improves connections for offshore energy companies based at Great Yarmouth.
The Secretary of State's direction means that the NDR will continue through the NSIP process. The Council has already launched its pre-application public consultation on the proposals, and around 1,800 people visited a series of exhibitions that ended on Monday at Rackheath.

The Secretary of State's ruling was welcomed by Norfolk County Council Leader George Nobbs, who is also Cabinet Member for Economic Development

"This is a significant step in improving Norfolk's vital infrastructure for three major reasons:

This is recognition at the highest level of Government that the NDR is essential if Norwich and a wide area of Broadland and North Norfolk is to play its full part in sustained economic recovery,

It emphasises the importance of connection to the A47 and the Trans-European Network of strategic roads,

It should also signal a higher priority for improvement of the A47 itself.

"This sort of project is essential if we are to improve our economic prospects."

David Harrison, Cabinet Member for Environment, Transport, Development & Waste, said:

"This is excellent news, and we are particularly pleased that the Secretary of State moved so quickly to make this unequivocal statement that the Norwich Northern Distributor road is indeed of national importance, as well as being vital for Norwich, Broadland and North Norfolk.

This means that we can use the streamlined development approval route offered by the Nationally Signficant Infrastructure Project (SNIP) procedure. The NSIP will give a more certain timetable and will sweep up several different approvals in one process. Local people will have their views heard at the Public Enquiry. Clearly, we have still got to secure development approval and we are certainly not taking that for granted, but the Secretary of State's decision means that there is a much better chance that the NDR will open for traffic as planned in 2017."

David Harrison acknowledged the part Norfolk MPs had played in raising the profile of the NDR nationally, as well as pressing hard for improvement of the A47.

Chloe Smith, MP for Norwich North, said: "This proposed road will help bring jobs to the area by making it easier to conduct business and get around the north of the city. One of the very first actions I took in Parliament as MP for Norwich North was to call for this infrastructure, as it is so important to residents and businesses to be able to get about. So I am pleased that Westminster recognises the importance of helping us build better transport in Norfolk. It is good for the city's economy to be another step closer in this case."

Norman Lamb, Member of Parliament for North Norfolk commented: "The NDR will help to link North Norfolk to fast growing areas such as Cambridge, to jobs-hubs such as the Norwich Research Park and to vital services like the Norfolk and Norwich Hospital. I am pleased that the Secretary of State has given the green light for the scheme to be treated as a nationally significant infrastructure project."