Holdall: New Travel 'Smart Card' For Norfolk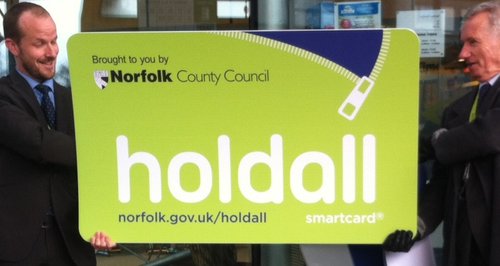 The new 'Holdall' card can be used on Park and Ride buses across Norfolk from 14 April.
The card launched today at Norwich Bus Station, where park and ride users were invited to find out more.
From today, Norwich Park & Ride users are able to apply for the new travel card and it can first be used from 14 April, when the system goes live for the first time.
David Harrison, Norfolk County Council's Cabinet Member for Enviornment, Transport and Waste says it has the potential to do more than pay for buses.
"A smart card will be the easiest and most economical way to pay for park & ride, but this is just phase one. We will extend smart card use to other activities like school and college transport, and as a multi-operator ticket that can be used on buses right across the county.

"It's already smarter than the successful Oyster card for London because it's not just a cash-holding card. For park & ride it can by used to buy a range of cost-saving tickets to suit the user's needs. And it also has the potential to be used in many other ways - as your library card, for example, or as a cashless way to pay for school meals, or to provide access to a range of public services.

"This is Norfolk showing the rest of the country the future of smart card ticketing for public transport, and the enormous potential for smart cards to do much more."