Norfolk: Helicopter Crash Site Size Of A 'Football Pitch'
8 January 2014, 15:04 | Updated: 8 January 2014, 15:06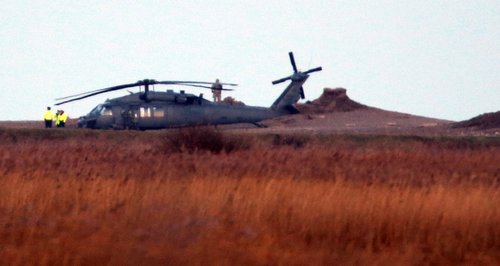 Four have died after a US military aircraft crashed into marshland in Cley.
Police and officials have cordoned off an area described by Chief Superintendent Bob Scully as the 'size of a football pitch' while an investigation takes place.
The crash happened last night at around 6pm when locals described hearing a very low flying aircraft and then silence.
Chief Superintendent Bob Scully from Norfolk Police
It is believed that the aircraft was on a low-level training mission but there is no clue as to the cause of the crash yet. The helicopter was a Pave-Hawk and was with another helicopter which was not involved in the crash but set down to help.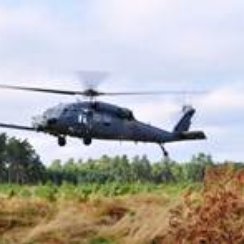 The four killed will not be named until 24 hours after their next of kin are informed.
In a statement about the crash, Matthew Hancock, MP for West Suffolk said:
"My heartfelt condolences are with the families and comrades of the airmen killed in the RAF Lakenheath helicopter crash. Lakenheath is a close-knit community, and I know that this tragic loss of life will be deeply felt.
"In Suffolk we never forget that the presence of the men and women of the 48th Fighter Wing helps guarantee Britain's security and shared freedoms. This crash reminds us of the bravery of our allies, in training and in war.
"I also wish to pay tribute to the emergency services, who had to confront both difficult terrain and the presence of live ammunition as they arrived at the scene of the crash."
Heart East Anglia 1100 News From Cley Helicopter Crash Scene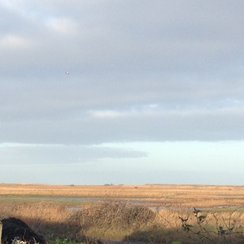 The investigation is expected to take a considerable amount of time.
Chief Superintendent Bob Scully from Norfolk Constabulary, said: "In order to carry out a thorough investigation in a safe manner, the area will remain cordoned off with no access for the general public.
"We will be working with our partners at the Ministry of Defence, Air Accident Investigation Branch and US Air Force to gather all evidence from the scene and then recover the aircraft.
"This is difficult terrain with marshland and tides coupled with wreckage containing munitions covering a large area.
"We must undertake this investigation and recovery operation in a careful and methodical way so we can provide answers as to why this crash happened.
"For reasons of safety it is essential that members of the public adhere to the cordon. The popular activities of walking and bird-watching in this area will therefore be restricted until we have completed these tasks and ensured the marshes are safe."
Statement from RAF Lakenheath:
U.S. Air Force personnel continue to work alongside UK civilian and military authorities at the scene of the HH-60G Pave Hawk helicopter crash.

The crash occurred at about 6p.m. yesterday in Cley on the Norfolk coast. On-scene emergency responders have confirmed that four Airmen died in the crash.

"The loss of our Liberty Wing brethren is felt deeply across RAF Lakenheath," said Col. Kyle Robinson, 48th Fighter Wing commander. "I can only imagine the hurt and sorrow felt by the family and friends of these Airmen. You are in our hearts and minds.

"We're already feeling a great sense of support from across the Air Force and from our UK neighbors as we go through this difficult period. Thank you for keeping our Airmen and their families in your thoughts and prayers."

Norfolk police still have the lead on the crash site investigation. Support agencies on scene include personnel from the 48th Fighter Wing medical group, fire department, safety office, and security forces squadron.