Norfolk: Marriage Proposal From A Helicopter
26 September 2013, 05:26 | Updated: 26 September 2013, 06:33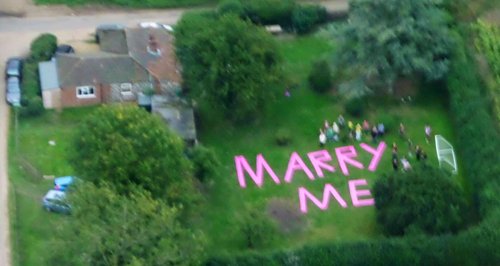 A hairdresser from Coltishall in Norfolk has been given one of the great wedding proposals of the year.
Klare Thomas was picked up from work at the weekend at The Attic Hair Studio in Coltishall and blindfolded.
She was then driven for miles before arriving at Norwich airport where she found her boyfriend Adam who was standing next to a helicopter.
After flying out to the coast they then looped back round again to fly over their home where the words 'marry me' had been laid out in the back garden in huge pink letters in their back garden surrounded by some of their friends and family.
After seeing the message Klare says 'at that point I cried just a little bit and looked at Adam who was trying to put the ring on the wrong hand. I then held out the right hand and just carried on waving out the window and crying.'
Adam had been planning the stunt for around three months.