Norfolk And Suffolk To Share Services
20 November 2013, 09:10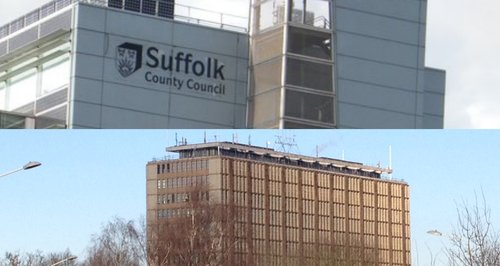 The leaders of Norfolk and Suffolk County Councils are meeting to sign an agreement to share services.
Cllr George Nobbs and Cllr Mark Bee will meet on the county boundary at Beccles today to sign the historic partnership agreement, committing both authorities to work more closely together.
The agreement will see the councils collaborate to develop a single health and social care system across the two counties that is easy to understand and use and deliver improved services for older people.
The two councils already work together on the matters of improved broadband, economic development and public health.
George Nobbs, Leader of Norfolk County Council, said:
"The two counties have strong historic links, and that's because we share so many interests and face similar issues. This signing reinforces those links, but it is far from being merely symbolic. Where we have worked closely we have found out how much we have in common, and how joint working can help us improve services and reduce costs.
The agreement to explore other areas of collaboration comes as both authorities face cuts in funding of 30 per cent in the next four years, as well as increased demand for services. Together, they will have to save over £340 million.
Mark Bee, Leader of Suffolk County Council, said:
"Local Government is facing unprecedented financial challenges so it is incumbent on all of us to do everything we can to work together, cut waste and drive down costs. Today marks the beginning of a much closer and formal working relationship between our two fine counties, where more of our future decisions are taken together and in a way that makes the most of the resources and expertise available across both counties."