Norwich: Alan Partridge Premiere Coming To City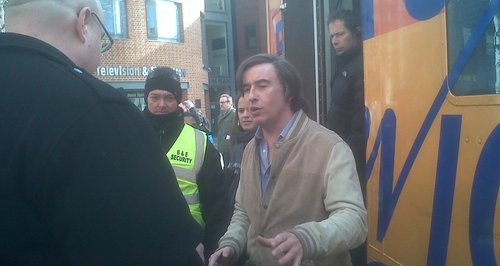 The World Premiere of Alan Partridge: Alpha Papa will be coming to Norwich.
The World Premiere of Alan Partridge: Alpha Papa will be coming to Norwich.
It follows weeks of campaigning from people in the city who called for 'Anglia Square not Leicester Square'.
Studio Canal announced this morning a lunchtime premiere will be held at Hollywood Cinema on Wednesday 24th July, before an evening premiere in London's Leicester Square.
Alan Partridge himself, Norwich's most famous son, will greet fans & speak with media at the premiere in Anglia Square before boarding a helicopter bound for London.
Alan comments: "You can imagine how hurt and litigious I felt when people said I was planning to debut my movie in London instead of Norwich, or that I'd allowed my head to be turned by the prospect of big city fame. Any suggestion I've hastily cobbled together the lunchtime Norwich screening in response to a local Twitter campaign will be met with the full force of the law."
Scenes for the film were shot in Norwich city centre and at Cromer Pier in February.
The film follows Alan's radio station, North Norfolk Digital, being taken over by a new media conglomerate. A spokesperson said: "it sets in motion a hilarious chain of events which see Alan having to work with the police to defuse a potentially violent siege. Will Alan talk round disgruntled colleague Pat Farrell? Will there be shots fired in anger? Will Alan become a public hero or simply another footnote in the history of broadcasting?"