Norwich: Jail For Couple Who Kidnapped And Robbed Wheelchair Bound Man
27 February 2014, 17:45 | Updated: 27 February 2014, 17:50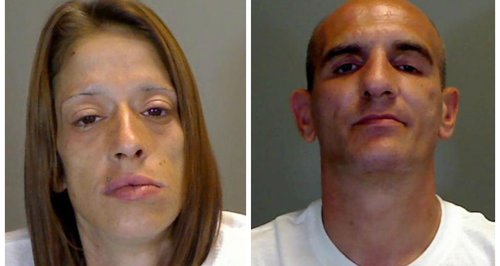 A couple who kidnapped and then robbed a quadriplegic man have been jailed for a total of 10 years.
Sarah Harcourt, 35 of Gypsy Close and Adam Webster, 38 of William Kett Close took Stephen Dooley from the Vauxhall day centre before wheeling him to Chapelfield Park against his will and robbing him of £7.
Mr Dooley was then abandoned at the park and left to find his way back to the centre alone where staff contacted police.
Harcourt and Webster were arrested 40 minutes after and were identified by CCTV footage.

This afternoon at Norwich Crown Court, Webster was jailed fof six years and Harcourt was sentenced to four. Harcourt was also given another 12 weeks for a separate theft offence.
Stephen, 38, is wheelchair bound and only has function of one arm and can't speak. He gave evidence in court communicating through an interpreter and using a computer.
Speaking after sentence, Stephen's father, Rev Gerald Dooley, said he struggled to understand why two people would do this and said the crime was "way outside humanity".
He said: "You hear things all the time but you never think something like this will happen to your family."
His sister Vicky Shucksmith said she admired her brother's bravery to give evidence in court.
She said: "The trial lasted for three weeks and Stephen gave evidence over three days. It was hard for us and distressing to see but he wanted to do it. He didn't want them to get away with it."
Investigating officer Detective Constable Jim Starling, from Norwich CID, welcomed the sentences.
He said: "Harcourt and Webster are the lowest of the low. For two people to target a man who clearly has no means of defending himself or even calling for help is beyond belief.
"Stephen would have been visibly distressed during the incident, but this didn't stop them pushing him to the park and robbing him of a few pounds before abandoning him on the street.
"Stephen needs constant care and is never alone and, understandably, has been left very distressed by what happened. We've got to know Steven through the course of the investigation and it's incredible to see the improvement he's made.
"Harcourt and Webster are prolific offenders and it's pleasing to see that both will be behind bars for several years where they belong."
Detective Sergeant Richard Dickinson also worked on the case and praised Stephen and his family for their patience and perseverance during the enquiry and subsequent trial.
He said: "Giving evidence in court is a traumatic experience for any victim of crime, but it's particularly poignant in Steve's case as he has limited means of communicating. He did extremely well and I believe his evidence was crucial in securing a guilty verdict."